Videos and a community platform: the highlights of the new Filles TV website

Category
Archives Lagardère Active
Paris, October 9, 2007
Reflecting new developments at the Lagardère Active channel, which now targets young women aged 15 to 24, the new website www.fillestv.com is now online.
A central feature of this new site featuring sober, elegant graphics is a wide range of videos, some drawn from the channel's programme grid, such as beauty coach, the animated series Friday Wear*, etc., and some designed exclusively for the Internet, such as Emilie et les Filles (Full Feel Factory-Filles TV) and Les Nanas (Alphanim), as well as a new community platform designed for self-expression and interaction, through personal pages, numerous forums and blogs.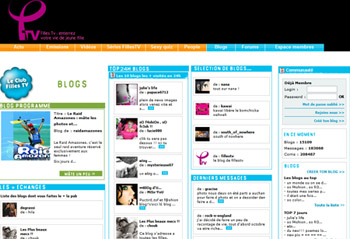 Filles TV is also continuing its partnership policy with some of the largest Web portals, the most recent being an exclusive partnership with MySpace and its community, well-known for its creativity, which has been invited to interact with Filles TV and fillestv.com.
The first joint operation was launched last September with the on-line creation of an original work: hundreds of web surfers contributed their photos to create the letter Phi, the channel's symbol. Discover it now at www.myspace.com/fillestv.
Forthcoming… humour-related events and activities, the channel's series, social action, seduction, the concept of community and much more!
Email alert
To receive institutional press releases from the Lagardère group, please complete the following fields:
Register