The trust of our stakeholders is based on our commitment to act with integrity every day. This principle has led the Lagardère group to define rules of conduct and principles of action that shall guide the behavior of all employees, suppliers and other stakeholders, in terms of ethics, environmental, social and societal responsibility.
"The Lagardère group's success is based on a set of strong principles and values, which form the basis for our actions and are an integral part of our identity. One of the Group's greatest strengths is the commitment of our people to integrity and excellence in all that we do."

Arnaud Lagardère
Code of Ethics
Governing principles applicable to the whole Lagardère group
The 2020 Code of Ethics is one of the fundamental documents underpinning the Lagardère group's policy regarding Corporate Social Responsibility (CSR). Anyone who works for the Group, in any capacity, is required to comply with the code which may be used as a decision-making tool when the need arises. It is intended to draw attention to the framework in which our day-to-day activities belong.

Made up of seven chapters (Upholding fundamental rights; Relations within the Group; Relations with external partners and competitors; Relationships with clients; Respect for shareholders; Social responsibility; Environment), it ends with a "statement of compliance to be signed by employees" that each person must fill in and return to its company's Human Resources manager.
This code is available on the intranet portal in English, French, Spanish and German.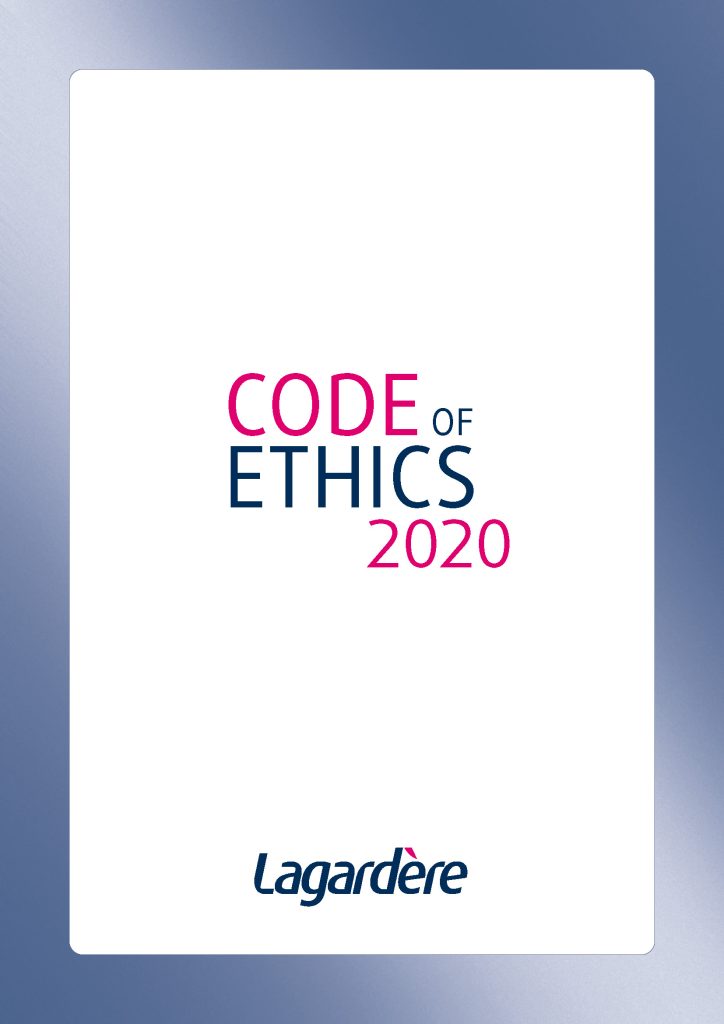 Anti-corruption Code of Conduct
Compliance with laws and regulations in the countries where the Lagardère group operates is an imperative for all employees. Each of them must commit to preventing the risk of corruption, in order to protect the Group, its image, its reputation, its economic interests and those of its partners.
Designed as a practical tool for employees and partners of the Lagardère group, this Code aims to: offer a common vision of the standards of probity specific to the Lagardère group; concretely illustrate the behaviors to apply or to proscribe in its activities; identify the people to contact in case of doubt or questions.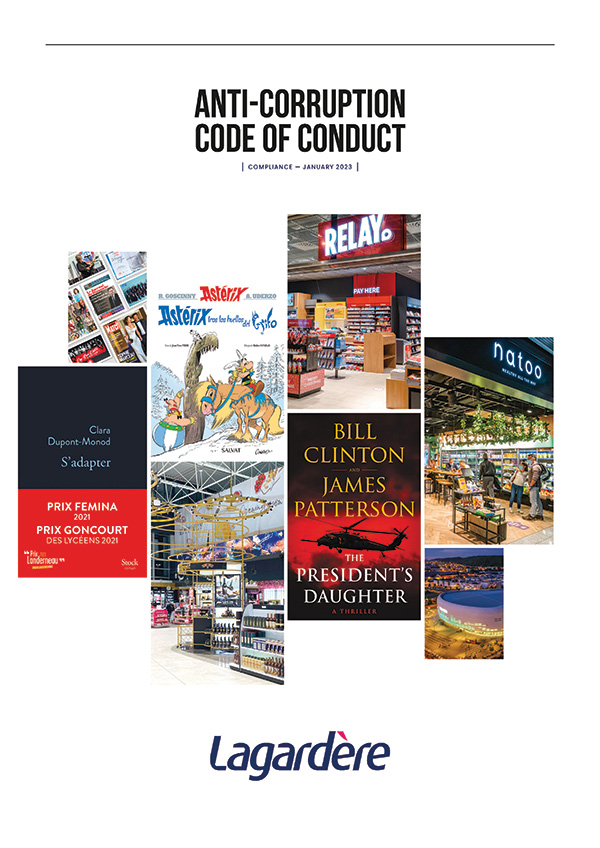 (Interactive version – All languages)
Ethics Line
As part of our approach to ethics and in line with our regulatory obligations, Lagardère has set up a groupwide whistleblowing system – the online "Ethics Line" – that can be used by all and accessed from anywhere.
Ethics Line allows anyone to raise an alert about behaviour they observe in connection with the Group's activities that breaches business ethical standards. You are invited to familiarise yourselves with the accompanying whistleblowing procedure, which is also available on the platform. Ethics Line is available online at the following address : http://ethicsline.lagardere.com/
The Code of Ethics fosters Ethics Line as a confidential platform for reporting suspected unlawful, unethical activities or behaviour within the Group.
By putting social, environmental and ethical considerations at the heart of our strategy, the Lagardère group hopes to contribute to creating corporate value as part of a sustainable and inclusive growth dynamic.