The Lost Girls of Rome, a new thriller by Donato Carrisi (The Whisperer) published in France by Editions Calmann-Lévy, is slated to hit French bookstore shelves on 1 March
Category
Lagardère Publishing
Paris, January 23, 2012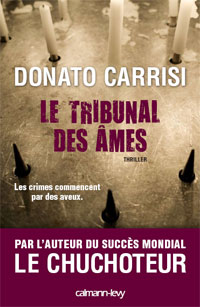 The book
Following on from the success of The Whisperer, Donato Carrisi is releasing a new thriller.
Rome: the good life, the Capitol, crowds of pilgrims and hordes of tourists…but also rain, dark side streets, underground labyrinths and elusive murderers.
Marcus is a man without a past. His specialty is analyzing crime scenes to uncover evil wherever it tries to hide. One year ago, he was severely injured and lost his memory. Today, he is the only person who can shed light on the disappearance of a young girl, the victim of a kidnapping.
Sandra is a photo investigator on the police forensics team. She too looks for clues in the places where life has taken a wrong turn. One year ago, her husband fell from the top of an abandoned building, and she never could believe it was an accident.
Their paths will cross in a church, in front of a Caravaggio painting. They will have to choose between vengeance and forgiveness in a city that still resounds with a thousand years of whispered crimes in the heart of the Vatican, at the border between light and shadow.
The author
Born in Italy in 1973, Donato Carrisi is the Italian author of one of the world's most successful thrillers. His first novel, The Whisperer, has sold over 300,000 copies in France, has been translated in 20 countries and has won four literary prizes in Italy as well as the SNCF Thriller Award and the Livre de Poche Readers' Award in the Thriller category.
Selling points
The popular and critical success of The Whisperer.
The particular subject of this novel, in which the reader traces clues involving the Apostolic Penitentiary, one of the Roman Catholic Church's three tribunals and headquarters for the priest-confessors' archives.
Upon its publication in Italy, The Lost Girls of Rome immediately shot to the top of the bestseller lists. Critics consider it even more original and moving than The Whisperer. The rights have already been acquired in 13 countries and 140,000 copies have already been sold.
"A priest-detective finds himself at the border between good and evil…A thriller with a complex but flawless structure and a plot that moves forward via various points of view and periods. Carrisi expertly weaves together the many threads that make up this story, balancing the plot twists and revelations with a powerful style and an unparalleled aptitude for mixing the real and the imaginary" – Cristina Taglietti, Corriere della Sera, 31 August 2011.
"Carrisi has revived the thriller genre in line with Nabokov's views: a love for literature reveals itself in the little shiver up your spine, not just in your mind" – Andrea Fazioli, Il Fatto Quotidiano, 2 September 2011.
"The new star of Italian suspense" – Gioia, Scrittori Noir.
"After The Whisperer, an extraordinary demonstration of genius" – Tutti Libri, supplement to La Stampa.
Email alert
To receive institutional press releases from the Lagardère group, please complete the following fields:
Register