The launch of 'Version Femina' the first european women's weekly

Category
Archives Lagardère Active
Levallois, April 2, 2002
The SPF (Women's Publishing Company) is pleased to announce the launch of "Version Femina", the first European Women's Weekly Magazine, sold at newsstands as a supplement to 32 regional daily newspapers throughout France, beginning 3 April and continuing through the weekend.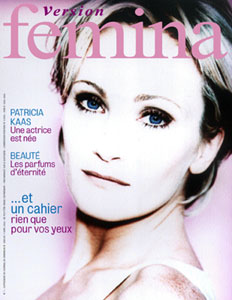 With a distribution of 3.6 million copies (certified OJD figures), Version Femina is devoted to glamour and practical issues and has borrowed the best features from two women's magazines, Version Femme and Femina Hebdo.
"Version Femina gets its feminine touch from Version Femme, with cover pages highlighting celebrities and stars and a current weekly news story… The practical side of Version Femina, its quality and wealth of information and its column content (covering cuisine, fashion, beauty, health, children, psychology, tourism, law, money, etc.) come from Femina Hebdo", comments Constance Poniatowski, Editor-in-Chief of the new magazine.
Version Femina will also regularly run (once a month to start) the special-interest column that appeared in Version Femme and will continue Femina Weekly's regional column for the weekly dailies that it had previously featured. Femina will also include its own pages on fashion, beauty and cuisine (including original recipes).
"The slow editorial evolution of the magazine is intentional so as not to throw off its 9.2 million devoted readers (AEPM figures). Its new layout and format have a striking modern and feminine look owing particularly to new type style, but also to pastel colour schemes and softer hues", Constance Poniatowski points out.
---
A team of 35
The 35-strong staff includes 30 journalists from the 2 groups. Their task will be to publish this 52-page magazine on a weekly basis (excluding the regional column).
Strength and Segmentation
Version Femina's first issue contains 20 pages of advertisements as a result of its strong appeal during its launch and predicts an average of 12 to 15 pages of weekly advertisements in upcoming issues.
"The new name holds the ace card in regards to advertisers because it combines media strength – being the top women's weekly in distribution- with the segmentation of targeted preferred advertisers: women", says Clotilde Delaunay, Director of Marketing and Promotions, PQR (Daily Regional and Departmental Press) and supplements. This new, nationally-advertised offer, unique and available to all, is promoted by a team of 9 within the Interquot Group.
---
SPF, magazine publishing house, is owned 50/50 by HACHETTE FILIPACCHI MEDIAS and SOCPRESSE.

INTERQUOT: Advertising department, Version Femina, subsidiary (50/50) of INTERDECO and PUBLIPRINT.
Press Contacts:
Marie Muzard - Aurélie Olivier - Kathrin Schurrer
Tel: 33 1 41 05 09 60 - Fax: 33 1 41 05 09 67
Email alert
To receive institutional press releases from the Lagardère group, please complete the following fields:
Register