The Jean-Luc Lagardère Foundation becomes one of IRCAM's principal patrons of innovation and the arts

Category
Corporate & other activities, CSR
Paris, November 22, 2007
The Jean-Luc Lagardère Foundation has decided to support the artistic and scientific development of the IRCAM Institute for musical and acoustic research and coordination (Institut de Recherche et Coordination Acoustique/Musique), as well as its educational activities conducted in secondary schools. This research centre, dedicated to cutting-edge contemporary musical research and creation, shares with the Jean-Luc Lagardère Foundation a commitment to establishing digital culture in the heart of disadvantaged neighbourhoods.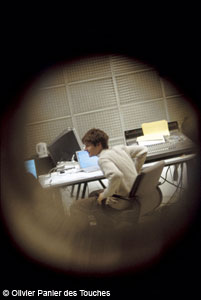 As a new patron of IRCAM's innovation activities, the Jean-Luc Lagardère Foundation will finance a doctoral thesis this year on new methods of musical and multimedia interaction, combining gesture, sound, synthetic images and video, with an expected impact on the performing arts (i.e. dance, theatre and so on). The Jean-Luc Lagardère Foundation will also support the production of "sound and image" works by IRCAM's best students in partnership with other advanced educational institutions in Europe. These works will be presented to the public during the IRCAM's Agora Festival in June 2008. Finally, the Foundation is joining forces with IRCAM and the Pompidou Centre to set up arts-education programmes, incorporating the most advanced technologies, in vocational high schools in the Paris region.
According to Renaud Leblond, Associate Director of the Jean-Luc Lagardère Foundation, "With this partnership, we are opening up new avenues of expression in the digital realm, combining creativity, research and social action." IRCAM's Director, Frank Madlener, adds: "With the support of the Jean-Luc Lagardère Foundation, we can do even more in the area of new-content creation and experimentation with new applications."
The Jean-Luc Lagardère Foundation supports digital culture by awarding an annual Talent Grant of €25,000 to a young digital artist, by promoting various festivals, such as the Valenciennes E-magicians Festival, and by supporting French artists abroad. In October 2007, for example, the foundation participated in the first E-Arts Festival in Shanghai.
The missions pursued by IRCAM, which is associated with the Pompidou Centre, include research, creation and education. Since its founding in 1977 by composer and conductor Pierre Boulez, it has become one of the world's largest public research centres dedicated to musical creation. It is well known to the public for its artistic season and the Agora Festival. IRCAM comprises a research unit associated with the National Centre for Scientific Research (CNRS) and a community of approximately 100 researchers. It promotes the experimental creation of new artistic works and offers advanced training in both scientific and artistic fields, in conjunction with the academic world.

The Jean-Luc Lagardère Foundation
The aim of the Jean-Luc Lagardère Foundation is to create excellence, nurture confidence and foster social cohesion in the fields of sports and culture. With these goals in mind, the Jean-Luc Lagardère Foundation supports young talent, creators and sponsors of social solidarity projects. Its mission is to identify and create athletic and cultural excellence, develop exceptional venues for sports and culture, and engage in committed social action in the heart of disadvantaged neighbourhoods. TeamLagardère and Lagardère Paris Racing are the cornerstones of the Jean-Luc Lagardère Foundation's commitment to sports.
TeamLagardère is an innovative entity providing professional-level coaching assistance in its facility located in the Paris Jean Bouin club. TeamLagardère includes a centre for sports-related scientific expertise that brings together the most advanced levels of technical competence in the areas of research, training and coaching. TeamLagardère also aims to train young hopefuls at its facility in Sofia Antipolis on the French Riviera by offering them a dual path of excellence: sports performance and personal development. TeamLagardère offers a personalized response to top-level athletes by providing them with educational assistance and monitoring, training and retraining programmes depending on their age and professional career path.
The Lagardère Paris Racing club is an ambitious project devoted to sports in Paris. With more than 18,500 members, including fourteen sports divisions in two athletic facilities – La Croix Catelan and Eblé –, Lagardère Paris Racing is Europe's leading multi-sport athletic club. Its mission is to develop the practice of sports in the French capital, in all of its manifestations: professional or high-level sports supported by TeamLagardère's expertise and training, leisure-time sports, health-related sports and sports for people with disabilities. Its long-term mission is to develop the outlines of a new French sports model, centred on strengthening the high-level club concept.
Email alert
To receive institutional press releases from the Lagardère group, please complete the following fields:
Register