The JDD online, 7 days a week!


Category
Archives Lagardère Active
Paris, March 15, 2007
It's the Web event of the month: Le Journal du Dimanche now available every day at the click of a mouse!
On 15 March, Lagardère Active Media launched the new online version of Le Journal du Dimanche, www.lejdd.fr, created by Newsweb.
Providing free access to live, up-to-date news throughout the week, www.lejdd.fr is a fully dedicated news site, complete with all the hallmarks of the JDD: an unequivocal brand, quality content, and uncompromising commitment to rigorous journalism, impartiality, proximity, and citizenship. Designed to be interactive and open to the public, it is a community-driven Website with debates, forums, blogs, polls, and up-to-the-minute barometer surveys of French opinion.
The Website is built on three essential components:
Live news: Accessible 7 days a week, a special, high-response team will keep its finger on the pulse of world events, bringing all the latest social, economic, sports and cultural news.
Interactive news debate: From analyses, reports, journal articles and "behind-the-scenes" features to blogs and videos, internet users can have their say, contributing to the site's dynamic content by airing their views through news debates and interactive discussions. A series of surveys, where the JDD is an undisputed market leader, will make it possible to keep an up-to-the minute barometer of French public opinion, with live internet polls and exclusive site surveys supplementing those of the paper version.
A culture and entertainment section: With the JDD already a household name in this field, the online version will include the regular journal's articles as well as exclusive features on making the most of the weekend. Again, the community will play a pivotal role with a network for exchanging good deals, cultural reviews by internet users, and much more.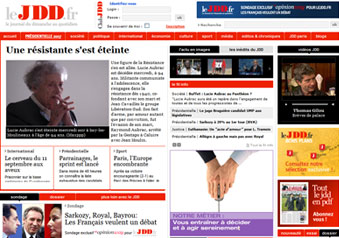 This new initiative is part of an overall growth strategy for the publication and the development of multimedia capabilities.
According to Didier Quillot, Chairman of Lagardère Active Media, "The JDD website secures Lagardère's position as a key player in the daily news sector. It encapsulates our strategy of using Lagardère's brands and leveraging digital technologies to create new avenues for expression. Launching this site also demonstrates our absolute faith in both the talents of our journalistic teams and the technical and industrial expertise of Newsweb, which we recently acquired, bringing onboard an excellent team of technical and editorial staff."
On the internet, the JDD has already joined forces with Europe2 to launch a blog (www.Generation2007.fr) dedicated to the presidential elections, which was a massive hit with young people aged 18-35.
As for the journal itself, the new layout unveiled in May made a considerable impact in terms of circulation, taking it up by 0.6% over the last 10 months – a real achievement in a national daily press market currently experiencing a general decline. In terms of advertising, Le Journal de Dimanche has seen a 16% increase in advertising revenue since 2005.
LeJDD.fr – all the news, quality and winning appeal of the JDD, available every day, online
Email alert
To receive institutional press releases from the Lagardère group, please complete the following fields:
Register