TeamLagardère launches the TeamLagardère video facility

Paris, June 5, 2007
Two years after the centre for sports-related scientific expertise was set up in May 2005, TeamLagardère has today unveiled its third and final element – the video facility, an innovative and unique tool for analysing motion and improving sport performance levels

The development of this system forms part of TeamLagardère's commitment to providing trainers with complete and accurate analyses of their athletes' performance. Thus far, the centre of expertise has enabled assessments to be carried out on athletes' energy and muscular capacities; now, technical data helps to complete the picture. These assessments essentially aim to help athletes and trainers make strategic decisions on a daily basis.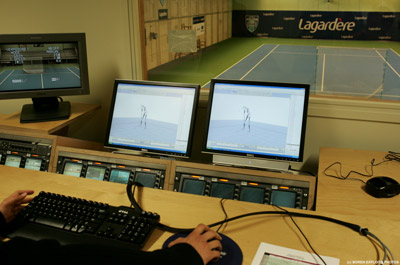 © Boren Exploits Photos

The new video system can be used to assess and observe the technical and tactical behaviour of players, with two component technologies opening the door to the full range of recording and image analysis capabilities available :
Sony High Definition is linked to seven cameras positioned around the training ground, enabling real-time, synchronized filming of the player along with motion analysis from each of the different viewing angles.
The Motion Analysis device is a motion capture system. Using a series of 12 red light cameras fitted on a grid above the grounds with a set of sensors attached to the athlete, this equipment provides biomechanical analysis capabilities by allowing the athlete's movements to be reconstructed in real time and in 3D.

"Going beyond the energy-level and muscular capacity analyses that we've developed in the last few years, the creation of this video system in a sports facility is the first of its kind in the world of sport", says Xavier Moreau, managing director of TeamLagardère. "We want to use imaging as a training tool that accurately pinpoints all the areas in which a player needs to up his or her game."

The project, with its team of three researchers and two engineers under the coordination of TeamLagardère's scientific experts, Christian Miller and Annie Riquet, aims to introduce tangible elements that trainers can use when making decisions. "My role is to provide objective information on the physical condition of the players," explains Christian Miller. "And today, thanks to this technology, we are in a position to give both trainers and players a complete set of accurate data on their technical and tactical behaviour."

Objective, individual and on-the-spot analysis for trainer and athlete
These two complementary systems take on board trainers' requirements for precise methods of observing, analysing and correcting the movements of athletes.
"This technology is an incredible asset since it allows us to hone in on our athletes' minutest details, correct their movements and help them gain those few thousandths of a second that can be so crucial in competition", explains Guy Ontanon.
Using an image-by-image analysis, players can also get instant feedback and observe any troughs in performance; that way, they can accurately gauge all the movements made.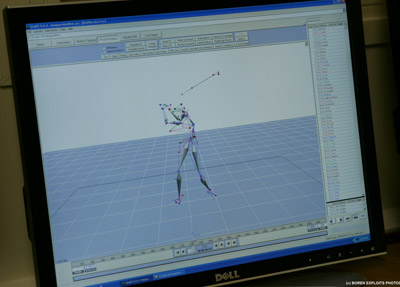 © Boren Exploits Photos

A fresh challenge
Although these software applications can be found across labs today, this is the first time that the two complementary technologies have been paired up within a sports environment in France. This equipment will allow players to concentrate on their training while ensuring they conform to assessment procedures that are just as stringent as those used by scientists.
"This is a huge milestone for TeamLagardère", says Arnaud Molinié, president and CEO of Lagardère Paris Racing and manager of TeamLagardère. "It ties in perfectly with Lagardère's original goal of making an active contribution to the world of sport. Now, the technologies we've developed with our partners Sony and Motion Analysis will give TeamLagardère trainers and players unbelievable scope for analysis and reflection as they strive to boost their performance."
Copyright-free photos from TeamLagardère's video facility are available to download from : www.teamlagardere.com
Videos are also available on request.
TeamLagardère website :
http://www.teamlagardere.com/

Email alert
To receive institutional press releases from the Lagardère group, please complete the following fields:
Register