Support freedom of the press with Relay and Reporters Without Borders

Category
CSR, Lagardère Travel Retail
Paris, September 18, 2009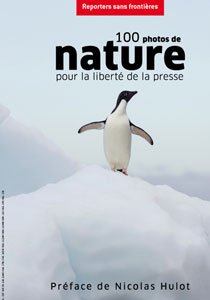 For a number of years, the RELAY chain has been supporting Reporters Without Borders' fight for freedom of expression. The NGO draws its inspiration from Article 19 of the Universal Declaration of Human Rights, according to which everyone has the right to inform and be informed.
Reporters Without Borders hopes to heighten the general public's awareness of our impending ecological emergency by publishing an album of photographs in association with Minden Pictures, an agency recognized for its animal and nature photography's exceptional quality. Various environmental activists have contributed their support, including Nicolas Hulot, who wrote the book's preface. There is also a long interview with primatologist Jane Goodall, who was honoured as a United Nations Messenger of Peace for her work with chimpanzees, which has profoundly transformed the relationship between human beings and animals.
This compilation of 100 nature photos is priced at €9.90, which will be donated in full to the NGO in support of its various activities on behalf of freedom of the press, in particular including assistance to journalists and their families and support for media encountering special difficulties.
This volume, which went on sale on 17 September at RELAY stores for the benefit of Reporters Without Borders, will receive the following special treatment free of charge:
Placement in a prominent location in front of the checkout desk.
Full-screen promotion on the plasma-screen networks in over 130 RELAY stores.
A dedicated page on Relay's website – www.relay.fr – that encourages site visitors to make donations via the Reporters Without Borders website.
Press contact
Garance Saingt - Tel: +33 (0)1 40 87 26 28 - E-mail: garance.saingt@relay.fr
Email alert
To receive institutional press releases from the Lagardère group, please complete the following fields:
Register