SPORTFIVE and DHB sign marketing deal


Category
Archives Lagardère Sports and Entertainment
Hamburg, November 23, 2007
SPORTFIVE to be DHB's exclusive marketing partner for the national handball team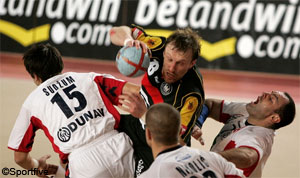 The German Handball Association (DHB) has commissioned Europe's leading sports rights agency SPORTFIVE to market the German national handball team's marketing rights. From 2008 to 2012, SPORTFIVE will recruit sponsors and advertising partners for national team coach Heiner Brand's world champion team on behalf of the DHB. The advertising space to be marketed by SPORTFIVE from now on includes the shirts and shorts of the reigning handball world champions, as well as special partner packages which give sponsors a presence on perimeter hoardings, the arena floor, and in ads and commercials.
"We've had a highly successful year from an athletic and economic point of view, but there are great tasks ahead of us on which we will now concentrate," declared Ulrich Strombach, President of the German Handball Association. "That is why we brought SPORTFIVE on board as a strong partner who will help us take the marketing of handball, led by the national team, to a whole new dimension."
"Germany's national handball team is an absolutely prestigious addition to the portfolio of any sports marketing agency," declared Thomas Röttgermann, Managing Director of SPORTFIVE. "We are delighted to be working for the DHB from now on and to be further building our presence in handball in the process."
We will be happy to furnish further information upon request.
Press contacts :
Charly Hühnergarth - Deutscher Handballbund - Tel: +49 231 9119111- Email: presse@dhb.de
Caroliene Götz - Vice President Corporate Communications - SPORTFIVE GmbH & Co. KG - Tel: +49 40 376 77-333 - Email: caroliene.goetz@sportfive.com
Email alert
To receive institutional press releases from the Lagardère group, please complete the following fields:
Register