Sportfive: All Africa Cup of Nations matches live on IPTV

Category
Archives Lagardère Sports and Entertainment
Hamburg, January 31, 2008
32 matches live and on demand at www.Ghana2008.tv
As the 2008 Africa Cup of Nations kicked off, SPORTFIVE successfully launched the official Internet TV service for the event on www.Ghana2008.tv. The new service offers high-quality video streams of all 32 matches in the tournament, live or on-demand. Each match comes with commentary in English and French.
Individual matches may be watched for USD 5.99. A package including all matches of the pool stage is available for USD 29.99 and a package featuring all the highlights for USD 1.99. All matches in the final stage may be purchased later for USD 14.99.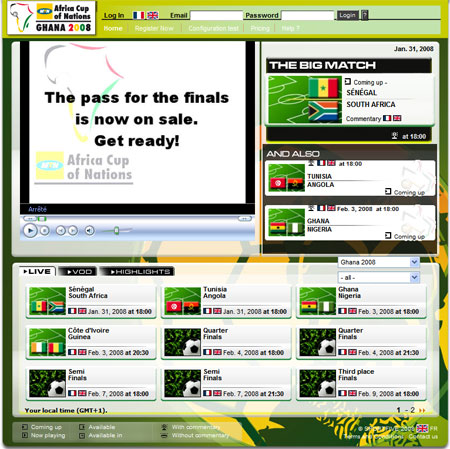 The service is available worldwide, except in Africa and the Middle East.
On the first day of competition, more than 10,000 people subscribed, and enjoyed the opening match of Ghana vs. Guinea, which the host team won 2 :1.
Francis Graille, Executive Vice President of SPORTFIVE: "We are very pleased that this service will allow all fans of African football worldwide to watch ACN matches at a fair price and in top quality."
We will be happy to provide further information upon request.
Email alert
To receive institutional press releases from the Lagardère group, please complete the following fields:
Register