"Sala Baï changed my life": an initiative supported by the Fondation ELLE

Category
Archives Lagardère Active, CSR
Paris, February 21, 2013
The Fondation ELLE has awarded almost 20 grants to young Cambodian women since 2007. All of the grant winners are from families living on less than €25 per month and have applied to study at the Sala Baï hotel school in Siem Reap, near Angkor.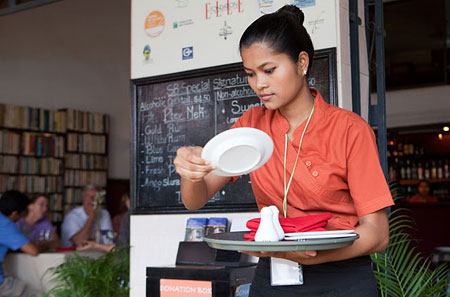 Over the past 10 years, more than 800 young people, 70% of them young women, have been trained at Sala Baï, and all them go on to find employment after finishing their studies. Several years on, they can expect to earn a monthly salary of $300-$400. The class of 2011-2012 broke all the records: within one month, every single student had found a job.
Sithat, 20, a farmer's daughter from Kampong Cham in south-east Cambodia who took the Restaurant Service course at Sala Baï, was one of those students. She talks to us about her experiences.
"Why did I apply to Sala Baï? I met one of the college's former students, who got a permanent job after her course, which means she can help her family.
"Now I'm doing the same. Thanks to Sala Baï, I have not only found a real job, but I'm now somebody within society – and all this just a week after I got my diploma. As of 1 August 2012, I work six days a week, 2 pm to 11 pm, in the restaurant at the Héritage hotel, for $120, service charges included. Every month, I send $50 to my parents, which is twice their usual monthly income. I know it's going to change their lives. I'm saving the rest so that I can study at university one day. My dream is to become a teacher.
"I'm really grateful to Sala Baï, the donors and my teachers, without whom none of this would have been possible. The college gave me the chance of a lifetime. Word of mouth works really well, because even in my native region, which is far from Siem Reap, the college is starting to get a name for itself, and competition for a place there is going to get tougher."
Email alert
To receive institutional press releases from the Lagardère group, please complete the following fields:
Register