Release of the 33rd Asterix volume
Category
Lagardère Publishing
Paris, October 14, 2005
For the first time, each of the new Asterix's 3,178,000 French copies will be numbered! …
Has the world gone Gaulish ?
The initial sales numbers are incredible just about everywhere: point-of-sale transactions seem to be heading for record levels, and even the most prudent marketing managers in France and Belgium are citing sky's-the-limit figures! They can hardly believe their tired eyes: over 800,000 copies of the new Asterix volume seem to have leapt off the shelves in just two days!
If these figures are confirmed, all publishing industry records have been broken as hundreds of thousands of delighted readers finally got their hands on Albert Uderzo's latest opus.
Just as I predicted, this is a volume that breaks with established conventions and demonstrates to an astounding degree the fundamental modernity of this 78-year-old author's work. Commentators should gradually come to understand that this is a highly original volume on several levels. For the first time, our American "friends" are actually skewered: the imperial forces are no longer headed up by Jules alone but also by Hubs (an anagram of Bush), the chief of the 'Superclones', and only the future will tell if the caricature of Schwarzy helps or hurts its model's presidential ambitions… What's more, our author has opted for the mixing of cultures, reflecting current trends in the comics market: as with this latest Asterix, the Franco-Belgian comics industry is currently coming up against the influence of manga in the same way that comic books, which nourished the authors of Asterix in their youth, once represented fierce competition for the budding art of BDs (as comic strips are known in the Francophone world). Albert Uderzo has incorporated all of this into his scenario, offering us a tremendously entertaining story rooted in his own personal universe – full of fantasy and imagination – where he once again gives our heroes that mocking outlook we've come to adore. The first feedback from readers the world over proves that the latter truly 'get' the point and indicates their enthusiasm for the drawings.
What an adventure we've had – an incredible journey, dear Asterix readers! For a year now, we have worked to prepare a celebration worthy of the event, with a worldwide launch in Brussels and a comprehensive exhibition in Brussels until January 15, 2006 – all the while keeping a lid on the closely-guarded secrets of the mind-blowing new volume. Mission accomplished! "I am floating on a cloud," Albert Uderzo confided to us on the evening of Friday October 14. For our part, we're totally burned out, utterly fried – but blissed out nonetheless!
Doubleclix,
Publisher of the www.asterix.com website
---
First panel of the 33rd Asterix the Gaul book, The Sky is Falling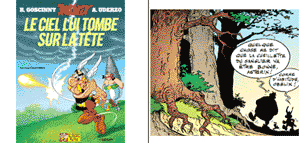 ---
Key dates in the Asterix the Gaul series
On 29 October 1959
, on page 20 of the first issue of Pilote, the first panel of the adventures of Asterix the Gaul is presented to Pilote's astonished readers. The success is overwhelming, with sales of over 200,000 copies!
Asterix is such a resounding success that after Le Bouclier Arverne (Asterix and the Chieftain's Shield in English), Uderzo abandons all his other characters to devote himself solely to the little Gaul – admittedly a rather puny character, but one that quickly becomes a major French comic book hero!
In 1974, Uderzo and Goscinny even create a short-lived animation studio – called Idefix – that will produce The Twelve Tasks Of Asterix.
On 5 November 1977, the grim news of René Goscinny's passing is announced. He was only 51 years old. This comes as a terrible shock to Uderzo, who loses not only a partner but also a very dear friend. Only 37 panels of Asterix in Belgium had been completed.
In 1979, after a difficult period of mourning, Uderzo decides not to leave their work unfinished and resumes the adventures of Asterix. In the aftermath, he creates a publishing firm, Editions Albert René, which he still runs today with his daughter Sylvie.
In 1980, Uderzo publishes his first "solo" volume, which nonetheless shows unbounded respect for the professional and human adventure he had experienced with his departed friend. The public responds warmly: the French version of Le Grand Fossé (Asterix and the Great Divide) sells 1.7 million copies. Modest about his success, Uderzo is already concerned about his next work. He suspects that the success of his first solo venture was motivated more by curiosity than anything else. The public, however, proves its loyalty by buying just as many copies of the next volume, L'Odyssée d'Astérix (Asterix and the Black Gold)! The magic of the bond between the artist and his public remained as strong as ever.
In 1985, following an agreement with publisher Georges Dargaud, the film Astérix et la Surprise de César (Asterix versus Caesar) revives the little Gaul's movie career. The following year, the adaptation of the volume Asterix Chez les Bretons (Asterix in Britain) confirmed the continued good health of the indomitable warriors.
With the creation of the Asterix Theme Park in 1989, Uderzo successfully launches a new logic-defying feat with his partners. Fifteen years later, the park is still the only true competitor for the American theme parks installed in France, with two million visitors annually.
In 1991, the volume Astérix, la Rose et le Glaive (Asterix and the Secret Weapon), distributed by Hachette Livre for the first time with the support of the Eleuthera agency, reaches never-before-achieved heights with sales of 2.2 million copies in French alone! Ever since, subsequent volumes have experienced constant, unwavering growth.
In 1996, La Galère d'Obélix (Asterix and Obelix All at Sea) breaks through the barrier of 2.5 million copies. Asterix is also featured for the first time in a museum exhibit at the Museum of Popular Arts and Culture, attracting 120,000 visitors in four months. The exhibit will travel all the way to Quebec's Museum of Fine Arts.
In 1999, the first "live" movie adaptation, Asterix and Obélix versus Caesar, is a huge success throughout Europe, with an audience of 24 million.
Uderzo entrusts the publishing rights to the first 24 Asterix volumes to Hachette Livre, with Editions Albert René handling subsequent volumes.
Hachette Livre then becomes the wholesaler and distributor for all the volumes and the publisher of the first 24.
In 2001, a new volume, Asterix et Latraviata (Asterix and the Actress), explodes all sales records, with 2.8 million copies sold in French and 7.5 million total worldwide.
In 2002, the second movie, Mission Cléopâtre (Asterix and Obelix meet Cleopatra), equals the record of the first film, but with a different breakdown: an audience of 24 million in total but with an all-time record in France of 14.5 million.
In 2005, the new volume, Le Ciel lui Tombe sur la Tête (Asterix: the Sky is Falling), once again beats all records with 8 million copies readied for sale in Europe on the same day, including 3,178,000 copies in French!
Without a doubt, this volume is destined to be 2005's bestseller for all categories combined in France.
In the space of 45 years, Asterix has become a worldwide phenomenon. The figures speak for themselves: 33 adventures translated into 103 languages and dialects, seven animated films plus the upcoming Asterix and the Vikings, slated for release in the spring of 2006, as well as a "live" film, Asterix and Obelix at the Olympic Games, scheduled for release in 2008.
---
Albert Uderzo and René Goscinny: a top-notch team
Of the inseparable team that was René Goscinny and Albert Uderzo, the latter, born into a family of Italian immigrants in Fismes, France in April 1927, was the younger of the two: Goscinny, who was also born in France into a family with Eastern European roots, was already nearly nine months old when his future partner came into the world. Destiny would eventually bring them together, but their paths were long and tortuous before they converged! Uderzo was a born illustrator and had begun his career very early in Paris right after the war – 60 years ago now – while Goscinny, who grew up in Argentina, was just arriving in New York at the time.
It was his meeting with Morris, Jijé and a publishing agent on the other side of the Atlantic that brought him back to Paris to the Rue de Montreuil, where Asterix's future illustrator lived. That day in 1951, the latter was late with his delivery.
It was when he came to pick up young Uderzo's drawings that Goscinny and Uderzo first met. They didn't yet know that their destinies were sealed.
Seated side by side in the World Press offices, the two young artists quickly discovered their shared taste for mockery and humour. Since their role at WP was merely as part of the scenery, they decided to work up their own characters, including Oumpah-Pah, Jehan Pistolet and Luc Junior.
Uderzo and Goscinny later actively participated with Jean-Michel Charlier and Yvon Hébrard in the founding of the companies Edipresse (a press agency) and Edifrance (an advertising agency), which allowed them to express themselves more freely. They both worked night and day and Uderzo completed up to nine panels in a single week, a colossal amount of work.
In 1959, the friends collaborated on a major project: the creation of the satirical review Pilote – and what a magazine it was! – at the initiative of François Clauteaux, who became its editor-in-chief. Uderzo and Goscinny were looking for a hero with French roots: after thinking about an adaptation of the French classic Roman de Renart, they explored the wider history of France, finally setting their sights on ancient Gaul and its people.
During this period, in addition to Asterix, Goscinny worked on various comic projects, including Iznogoud (Tabary), Le Petit Nicolas (Sempé), Lucky Luke (Morris), Valentin (Tabary) and Les Dingodossiers (Gotlib). Uderzo, for his part, was involved in drawing three very different, legendary series: Tanguy and Laverdure, the French counterparts to Buck Danny, based on tales from master writer Jean-Michel Charlier – a stylistic exercise for Uderzo, whose drawings show an incredible talent for realism (engines, military planes, bases and so on); there was also Oumpah Pah the Indian (and his friend Hubert de la Pâte Feuilletée), based on stories by Goscinny; and, naturally, the series that Pilote readers awaited most impatiently each week: Asterix.
---
Asterix: le Ciel lui Tombe sur la Tête (The Sky is Falling)
48 pages, €8.90
Editions Albert René
Release date: October 14, 2005
Email alert
To receive institutional press releases from the Lagardère group, please complete the following fields:
Register