Public celebrates its 10th birthday and incredible success story


Category
Archives Lagardère Active
Paris, June 19, 2013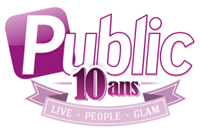 Launched in July 2003, Public magazine revolutionized women's celebrity publications by creating an innovative celebrity-centric concept that included women's-interest topics and TV programs. It was an immediate hit. Since that time, Public has continued to grow and is now the leading celebrity brand across all media.
In 2013, Public, which has already attracted 2.6 million readers each week (One 2012), has also become the digital leader in the celebrity/women's-interest segment, now outpacing pure plays and press brands.
Each and every day, Public brings together a community of one million people with whom it has built a special relationship.
No. 1 on the Internet: with over 3 million unique visitors, Public has taken first place among celebrity sites (Nielsen April 2013).
No. 1 on mobiles: the leading celebrity app and women's app with over 15 million visits/month and nearly 470,000 million page views (OJD May 2013)
No. 1 on tablets: the leading celebrity app and women's app with 1.5 million visits/month (OJD May 2013)
The Public app has been downloaded over 3.8 million times and is available for iPhone, iPad, Android, Windows 8, Windows Phone, BlackBerry and Bada.
The adventure continues…
In 2013, the Public app became the "best mobile app": its fourth OJD star confirms the brand's power and the strength of the Public community, but, more than anything else, demonstrates its ability to reinvent itself, as its various initiatives attest:
Public TV: An ambitious video strategy, coming soon
Events: the Public Glam Awards
Diversification: special features, My Sweetie Box by Public, Public Quiz and more
Augmented reality: a new interactive digital experience
Native advertising: an innovative publicity format
From 28 June through the rest of the summer, Public is celebrating its 10th anniversary with a special print-digital scheme and an eye-popping anniversary issue in July.
"In 10 years, Public has reinvented the 'people' market by launching a new concept that has evolved to become the digital leader in its target group," explains editor Thomas Kouck. "It's a great brand that has never been more powerful than it is today – and we have some ambitious plans to make it grow."
*Press, Internet, mobile phone.
Email alert
To receive institutional press releases from the Lagardère group, please complete the following fields:
Register