Psychologies magazine in China

Category
Archives Lagardère Active
Paris, June 8, 2006
Psychologies Magazine pursues international expansion in partnership with HFM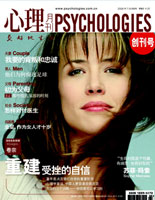 At the end of 2003, Gérald de Roquemaurel, CEO of Hachette Filipacchi Médias, and Jean-Louis Servan-Schreiber, Chairman of Finev, the company that publishes Psychologies Magazine, signed a framework agreement for the launch of international spin-offs of this brand, whose concept – embodied in the motto "A better way of living" – has been one of the major successes on the French magazine scene. This agreement was brought to fruition in July 2004 when HFM acquired a 49% minority interest in Finev, thus reinforcing the ties and synergies between the two groups.
Today, with circulation of 358,727 copies (up 12% year-over-year [2005 DTP-OJD]), readership growth of 22% and 2.4 million readers each month (AEPM 2005), Psychologies Magazine already boasts five editions outside France launched in the last 18 months thanks to HFM's powerful international network (Italy in November 2004, Spain in February 2005, Belgium in March, the United Kingdom in September and Russia in December of 2005). The magazine has also announced a new joint venture in China with the Chinese publisher China Sport Publications Corporation (CSPC), which already publishes Marie Claire and Woman's Day, in cooperation with HFM.
On 12 June 2006, CSPC will launch the magazine XIN LI YUE KAN, the Chinese translation of Psychologies Magazine. In this country, this is an entirely new concept for a prestige women's magazine, targeted at an active urban clientele looking for ideas and strategies to achieve "A better way of living". For its first issue, the magazine put Sophie Marceau on the cover – the best-known French actress in China – and featured topics as varied as blogs, sex, couples and personal behaviour. "We think it is worthwhile to help Chinese women find better ways to cope with their personal development in a rapidly changing modern society. Like many Western women, Chinese women lead busy professional and family lives and are looking for a happy medium between their desire for freedom and a satisfying personal life and their aspiration to participate in the fantastic development of their country," the magazine's Editor-in-Chief Tu Xiao Dong explains.
For its first issue, one million copies of XIN LI YUE KAN will be distributed jointly with ELLE, Marie Claire and Woman's Day. It will be priced at 20 yuan, or €2. The sale of advertising space will be handled by Beijing Hachette Advertising, of which HFM is the majority shareholder. "We feel this publication constitutes an excellent advertising medium for advertisers seeking a highly qualified target audience with strong purchasing power," BHACL's Managing Director Cao Weiming points out.
---
For further information, log on to Psychologies magazine web site:
Email alert
To receive institutional press releases from the Lagardère group, please complete the following fields:
Register