Opening of The Fashion Gallery at Madrid Barajas
Category
Lagardère Travel Retail
Paris, August 27, 2014
Aelia retail España opens "The Fashion Gallery", the largest luxury shopping area in spanish airports.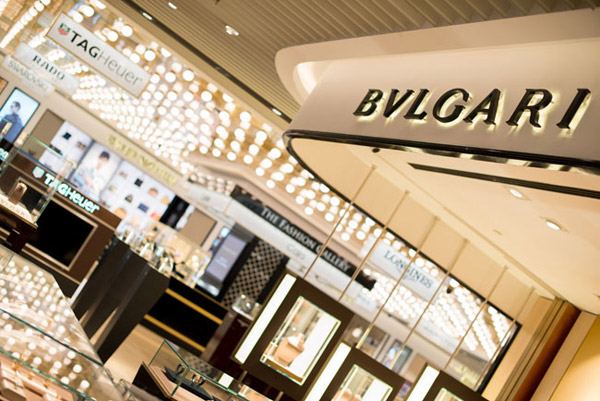 On 16th July 2014, Aelia Retail España officially opens the doors to luxury at Spanish airports: an area of 1,050 sqm, 21 brands of top-of-the-range jewellery, watches, accessories and prêt-à-porter goods make for a unique shopping area that is elegant, sophisticated and exceptional at Terminal 1 of the Adolfo Suárez Madrid Barajas Airport.
The Fashion Gallery is a multi-brand concept designed specifically for the travel sector, carefully thought out for long-distance travellers who adore fashion and luxury goods.
The unique architectural concept with its own identity provides a setting for the brands that truly showcases them, allowing each brand to freely express its own individuality in a "shop in shop" which accentuates the brand's products and collections.
The gleaming façade of the store with its sinuous curve is completely open, providing a warm welcome to customers. The canopy continues in black lacquer, crowned with a refined golden light and the effect is like a chain that marks the tone of this store; warm and elegant hues using noble, black, gold, bronze and beige materials… a palette inspired by the 1930s, timeless and chic.
Entering the shopping area through the front entrance, the iconic jewellery brands of Bvlgari and Omega can be seen at the sides, while Loewe, the Spanish luxury brand par excellence, can be found in the centre.
The shopping area is accessed through three black veined marble corridors, which lead customers to the central area. These corridors are in fact a fundamental part of the concept as they make their impact through their lighting and the layout of the brands as real catwalks.
Walking along these catwalks, we experience the contrasts of the lacquered and satin finishes, the plays of light and reflections of glass, a fashion parade where we can be seduced by Burberry, Hugo Boss, Lacoste, MaxMara, Michel Kors, Emporio Armani, Salvatore Ferragamo, Tous, Tumi and Montblanc. Tradition, modernity, international and Spanish brands, feminine and masculine collections, absolutely everything has been exclusively thought out for this Terminal.
In the central area is located the cash desk and a striking display of jewellery and watches watches in low cabinets. This central area with 360° visibility can be recognised immediately thanks to the golden roof and its unique delightful lighting in the form of small globes.
This central area is occupied by Tag Hauer, Longines, Baume & Mercier, Hamilton, Rado, Majórica, Swarovski, and, last but not least, the precious porcelain brand Lladró which will display its unique and special pieces.
The service is of the highest standard, as the personnel in simple, elegant uniforms have been trained to create an unmatched shopping experience in a multilingual environment where customers can be welcomed in 12 different languages: Spanish, English, French, Arabic, Russian, Chinese, Korean, Persian, Italian, Ukrainian, Portuguese and Japanese… a highly qualified and specialised team that have been trained in OSCAR, the unique AELIA travel retail programme accredited with ISO 9001.
A very special day, Un día muy especial, Une journée trés spéciale… a memorable experience at the Adolfo Suárez Madrid Barajas Airport.
mode=integre;autoplay=0;autoloop=0;[Moodie Report: The Fashion Gallery by Aelia Retail España at Madrid Barajas Airport Terminal 1mediaId=683;mediaUrl=youtube:ECghdqu3fFU;title=Moodie Report: The Fashion Gallery by Aelia Retail España at Madrid Barajas Airport Terminal 1;caption= ;copyright=;length=;thumb=base64;thumb2=0;]
Press contact :
Alexander Twose - Lagardère Services Communication Manager
(33) 1 42 99 07 01 - twose@lsnet.fr
Email alert
To receive institutional press releases from the Lagardère group, please complete the following fields:
Register