New MCM Internet Site
Category
Archives Lagardère Active
Paris, June 27, 2005
A new version of the Internet site of France's top cable and satellite music channel, MCM
, is up and running at www.mcm.net. It offers more music news, programmes, events, audio/video content and games – in short, a more interactive relationship with its viewers!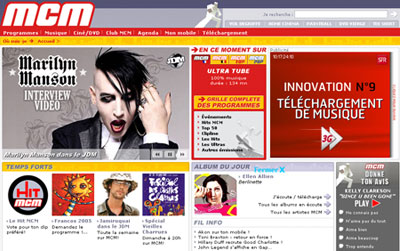 More programmes
The idea behind the new site is to offer MCM viewers an extension of the channel. Cybernauts visiting the site can check out the programme schedule – a player runs the MCM, MCM TOP and MCM POP channels' schedules in real time, right on the home page. Find out about channel events in advance, influence programmes, find additional content related to the channel's top programmes (via Top 50®, JDM, Clipline and more) and even do in-depth research on subjects covered by the channel.

More audio/video content
The MCM site offers:
More than 8,000 album cuts,
Over 2,500 video excerpts,
plus de 100 interviewes vidéo tirées du JDM
plus de 4000 bande-annonces de films (en partenariat avec Comme au cinema)
MCM is taking advantage of the complementary nature of the various media by enhancing its site with 10 video excerpts per day. TV viewers-cybernauts can consult, at their leisure, all the videos of artists promoted on the playlist or shown during specific-genre time slots, such as Ultra Club, Ultra Métal, Ultra Hip-hop, Ultra R&B and so on.
More information
The MCM site has made information a priority from day one. News is a key focus of the channel and an extension of its programming, and high-quality content is featured. Daily feeds include:
A music news feed.
A feed covering news about the MCM, MCM TOP and MCM POP channels.
A movie news feed (in partnership with Comme au Cinema).
An album review feed covering recording news.
More events
The MCM website serves to relay all the events carried by the channel. It offers cybernauts an opportunity to dig deeper in their personal research, enter creative contests and interact with the MCM programming staff. Examples include the following mini-sites and/or event files: Europe 2 Live, Les Vieilles Charrues, Les Transmusicales de Rennes, les 50 Ans du Rock, La Fête de la Musique, the Madonna Special, the Blair Witch Project video contest, the Snoop Dogg remix contest, Combat AIDS Day and more. Over the next few weeks, MCM will also offer a very complete Eurocks 2005 mini-site, produced in partnership with Europe 2, and Rock en Clips, an interactive voting module to select the year's best rock video, in partnership with the Rock en Seine festival.
More interactivity and games
Hit MCM, the channel's signature show, was designed to provide viewers with a chance to program their favourite videos free of charge. Each week, a list of 50 videos is uploaded onto the MCM site, and viewers-cybernauts vote for their top choices. The channel airs a show based on the voting results the following Saturday at 2:30 p.m.
The success of the interactive module spurred MCM's decision to revamp the site, to improve voting mechanics and ergonomics and better meet the expectations of MCM viewers.
MCM's Website Club also includes:
277,000 active members.
250,000 subscribers to the MCM newsletter.
Each week, the channel's website members can enter a slew of free game contests. Right now, for example, the site is giving away portable phones, DVDs, VIP passes to the Eurockéennes festival, and movie theatre and concert tickets. Clearly, registering as a member of the MCM website optimizes your chances of grabbing some of the best entertainment opportunities! The site will soon add blogs and forums to increase its interactivity with the TV audience.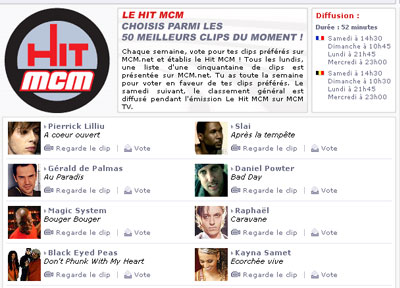 More services
In order to offer its visitors and members the best possible services, the MCM channel's website has teamed up with the biggest Internet partners in France:
FNAC, for the purchase of new CDs and DVDs.
123 Multimedia, for the downloading of mobile products.
Ticketnet, for the purchase of concert, festival and show tickets.
Virginmega, the top music-download site.
A bigger audience
MCM's site leads in the Broadcast Media category among 15- to 34-year-olds
(Ipsos, Dec 2004). A few figures:
2.7 million visitors per month (Cyberestat Jan-May 2005).
10.1 million page-views per month (Cyberestat Jan-May 2005).
79% of 15- to 34-year-olds (Ipsos Dec 2004).
57% of women (Ipsos Dec 2004).
70% of the French population outside Paris (Ipsos Dec 2004).
Email alert
To receive institutional press releases from the Lagardère group, please complete the following fields:
Register