New edition of ELLE in Hungary


Category
Archives Lagardère Active
Paris, September 19, 2001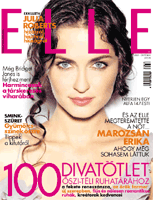 On 20 September 2001, Hachette Filipacchi Médias are launching the thirty-fifth edition of ELLE magazine in Hungary, in partnership with the Hungarian press group Adoc-Semic Kiadoi-Kft, who publish a daily newspaper and a number of general-interest magazines.
After the launches of ELLE Poland and ELLE Czech Republic in 1994, ELLE Russia in 1996, ELLE Romania in 1997 and ELLE Ukraine this past spring, HFM is now extending its coverage in Central Europe still further.
75,000 copies of the first issue of ELLE Hungary are being printed, containing 168 pages, including 42 pages of advertising. The major international advertisers (Lancôme, Vichy, Donna Karan, Clarins, Jean Paul Gaultier, Fend, among others) are present alongside local advertisers.
The job of editor-in-chief of the magazine has been entrusted to Ms. Virag Vaas, formerly editor-in-chief of a Hungarian women's magazine. She will lead a team of about a dozen journalists based in Budapest.
The new magazine will cover both international subjects such as celebrity interviews (the magazine has secured an exclusive interview with Julia Roberts), and trends (fashion and beauty for autumn), and local subjects. Featured on the cover of the first issue is Erika Marozsan, the young Hungarian actress who played in "Gladiator" and was nominated for an Oscar last year for her role in the short film "One Day Crossing".
In a country of more than 10 million inhabitants, ELLE Hungary, like all the editions of ELLE across the world, is aimed at active, urban young women who are open to innovation.
Hachette Filipacchi Médias now publishes thirty-five editions of ELLE magazine, making it the world leader in upscale women's magazines, with over 60 million copies sold worldwide in 2000.
Email alert
To receive institutional press releases from the Lagardère group, please complete the following fields:
Register