Matra in the spotlight at the Parizza trade show
Category
Corporate & other activities, CSR
Paris, March 14, 2013
This month, Matra will be showcasing its range of electric scooters for delivery specialists at Parizza, a trade show dedicated to the latest trends in snacks and Italian food. This customized solution features a new generation of removable HD batteries and a secure, high-performance charging station.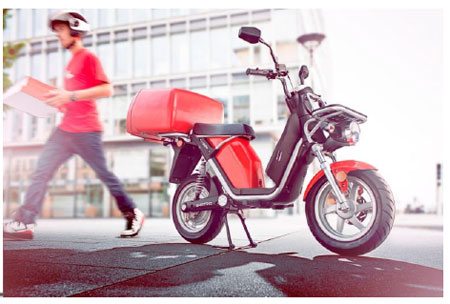 The leader in the French scooter market for the last three years, Matra will take part in Parizza for the first time on 20-21 March at the Paris – Porte de Versailles exhibition centre, where it will introduce delivery professionals to its comprehensive, economical, unique electric scooter solution.
A gas scooter can wake up as many as 100,000 people in summer just by crossing Paris from west to east, so this eco-friendly, silent innovation is likely to prove very popular with the capital's residents! Some 3,000 gas scooters currently crisscross the streets of Paris every evening. According to a recent Dutch study,* 10 French cities, including Marseille and Paris, are among the most congested metropolitan areas in Europe, further underlining the problems people increasingly face in travelling around in built-up areas.
That's why French manufacturer Matra decided to develop a turnkey electric solution comprising a range of commercial e-MO electric scooters, new-generation HD (high density) removable batteries and a high-performance charging station that's both safe and easy to use. This smart, eco-friendly alternative also saves you money! With prices at gas stations topping €1.50 per litre, Matra's scooters are more cost-effective than most existing gas solutions, maintenance and insurance included.
The perfect urban mobility transport solution
Boasting unprecedented manoeuvrability, ease of use and optimal autonomy, e-MO electric scooters make it cheaper to move around without harming the environment. Perfect for weaving in and out of traffic and capable of carrying loads of up to 100 litres (76 at the rear and 29 in front), e-MO scooters offer the ultimate urban delivery solution.
Unlimited autonomy
Thanks to the new Matra HD removable batteries and the BAT'LIB® system, Matra scooters now enjoy unlimited autonomy with a recharging time of five seconds – just as long as it takes to change the battery.
After returning from a delivery and unloading the 'empty' battery, the user simply replaces it with a 'full' one within seconds and can immediately resume riding. Electric scooters are no longer held back by limited autonomy and lengthy recharging periods during which conventional two-wheeled vehicles are out of action. The recharging station can be plugged into a 16 A or 32 A socket, so users don't need to install special equipment. Offered as part of a neighbourhood electric transport solution (solution de transport electrique de proximité, or STEP) package, which includes a charging station, electric scooters and batteries, BAT'LIB® is adjustable and scalable to each user's needs.
Substantial savings
The BAT'LIB® charging station, used in conjunction with Matra e-MO removable batteries, opens the way to intensive use of electric scooters at low cost to users. Solidly built and cheaper to run, maintain and insure than thermal motor vehicles, the electric scooter is not just green – it now offers excellent performance levels as well.
MATRA – hall 7.2 – stand M58
*The 10 most congested cities in Europe (study performed in April-June 2012):
1. Warsaw, 2. Marseille, 3. Rome, 4. Brussels, 5. Paris. (http://www.tomtom.com/lib/doc/congestionindex/2012-0704-TomTom-Congestion%20index-2012Q1europe-km.pdf )
About Matra
Matra has the advantage of building on 40 years of technological prowess and major contributions to the European automotive industry, not to mention its many historic achievements, particularly in racing (1964-1974), sport-utility vehicles (1964-1982) and minivans (1983-2003). Since 2004, Matra has been actively pursuing an ambitious strategy of technological and product-centric innovation in the light electric-vehicle sector. Electric bikes and scooters, quadricycles, engines, batteries and energy storage systems are now driving the company's growth in the European mobility market.
Matra Manufacturing & Services is a subsidiary of the Lagardère Group.
Email alert
To receive institutional press releases from the Lagardère group, please complete the following fields:
Register