LS travel retail captures London Luton Airport duty free contract
Category
Lagardère Travel Retail
Paris, April 21, 2015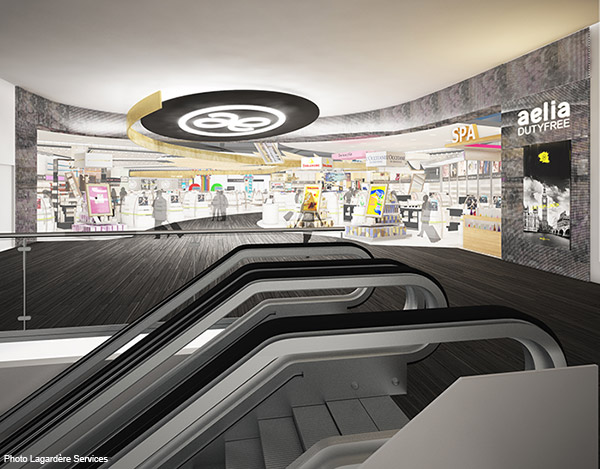 LLA crowns its transformation plans with cutting edge Tax and Duty Free Stores in partnership with LS travel retail
• LS travel retail confirmed as operator of LLA's flagship Duty Free 1,700 sq m store
• Major tender programme underway for a further 7,000 sq m of prime retail space
• Ground breaking new store central to £100 million redevelopment plans
London Luton Airport (LLA) is delighted to announce that LS travel retail UK & Ireland has won the competitive tender to operate a new 1,700 sq m flagship Tax and Duty Free store at the Airport. The new walk-through Aelia Duty Free store will be the centrepiece of a complete transformation of LLA's retail and dining offer when the first phase of the store opens in late 2015. In total four stores are planned – a flagship walkthrough store, an express/last minute store, an iconic M.A.C. island unit, and what LS travel retail describes as a 'new breed of arrivals store'.
LS travel retail, the incumbent operator, will offer great choice and value with leading and iconic brands including Chanel, Burberry, Jo Malone, Tom Ford and M.A.C.. Such brands reflect the passenger demographics at LLA, 79% of travellers at the Airport are ABC1s, while a fifth are business passengers. The new retail space will also complement LLA's amazing new £1 million Executive Lounge which will open this summer.
Total retail space at LLA is set to more than double in size to over 8,700 sq m as part of the Airport's £100 million redevelopment programme. LLA is currently running a major tender programme for the remaining stores, with 43 concessions available. The stores will be split into four distinct zones to deliver the best adjacencies for retailers and restaurant operators: Luxury, Affordable Luxury, High Street and Food & Beverage.
Rupert Lawrie, LLA's Commercial Director said: "We are creating an incredible new retail space that will exceed the expectations of our passengers. LS travel retail has proved to be a truly fantastic partner and through the tender has shown that it understands and shares our vision for the future of the Airport. The new 1,700 sq m walk-through Duty Free Store, together with a further 7,000sq m of exciting retail and dining options will create a unique experience within UK aviation. We are focused on ensuring the very best possible experience for passengers choosing to fly to over 100 destinations from one of London's' fastest growing airports.
Fin Casey, Managing Director of LS travel retail UK & Ireland, commented: "For LLA we have developed a unique retail vision highlighting: "It's a London thing", mixing the iconic features and latest trends of London. The Aelia Duty Free Next Generation retail concept will deliver the best of Duty Free with a highly localised look and feel. In particular key features, such as our new Whisky Studio and tasting bar, the 'London Luton Market' and the 'Best of London, England' will become reference point features within this ground breaking store design. All LLA passengers will discover the Aelia Duty Free unique "Art of the Gift": this will be the signature of the retail concept. Passengers will enjoy gift advice, gift wrapping, design features such as "Aelia Duty Free Gift Tower". The experience in LLA will be easy and seamless thanks to new and innovative digital features: tablets for the staff, iBeacons, and the new website aeliadutyfree.com allowing pre-order."
Lewis Allen, Director at Portland and who led their design team on the project added: "we are delighted to have been Aelia's design partner for the LLA tender. `We wanted to design an authentically London shopping experience that captures the diversity and creativity of London life."
Vincent Romet, Chief Operating Officer EMEA of Lagardère Services declared: "We are extremely pleased to have been selected once again by London Luton Airport to handle a new major Tax and Duty Free operation at this airport. Our partnership with LLA has always been of the highest quality and we are very excited by the prospect of going forward together in this new venture of creating a shopping experience designed to exceed the customers' expectations.
Press contacts:
Lagardère Services - Alexander Twose - Communication Manager - tel. + 33 1 42 99 07 01 - email: twose@lsnet.fr
London Luton Airport is one of the UK's largest airports and carried 10.5 million passengers in 2014. The Airport employs over 8,600 staff and is a key economic driver for the region.
easyJet, Wizz Air, Ryanair, Monarch, Thomson, EL AL, Atlasglobal, Blue Air, TAROM, SunExpress, Air Nostrum, La Compagnie and VLM operate from the airport, departing to over 100 destinations including services to Europe, Africa, and Asia.
The Airport is operated and developed by a consortium of which the majority shareholder is AENA, the world's largest airport operator, and Ardian, a major European investor.
Operating in 29 countries throughout Europe, North America, Asia and the Pacific, LS travel retail, a division of Lagardère Services, is a world leader in Travel Retail. Lagardère Services operates more than 4,100 stores across the world, including a presence at over 150 airports and 700 stations. It runs the largest international network of duty free and luxury, travel essentials and foodservice stores.
Email alert
To receive institutional press releases from the Lagardère group, please complete the following fields:
Register