LS travel retail and Aeroporti di Roma together unveil 4,800 m2 of commercial space in Rome Fiumicino Airport

Category
Lagardère Travel Retail
Paris, September 12, 2013
On September 12th, 2013, Aeroporti di Roma and LS travel retail officially launched their newly modernized expanded stores in Rome Fiumicino airport.
Over the past 6 months, LS travel retail Roma totally refurbished more than 4,800 m2 of space. This development was completed without any need to close the retail areas for even a day.
Loreznzo Lo Presti, CEO of Aeroporti di Roma,
Alain Le Roy, Ambassador of France in Italy,
Mr. Dag Rasmussen, CEO of Lagardère Services
As a result, eight new stores were unveiled: three Aelia Duty Free stand-alone stores, and five Aelia Duty Free / Casa Del Gusto combi-stores. An Acqua Di Parma shopping area within an Aelia Duty Free store was also unveiled. This was, however, only a first step, building new stores in existing facilities in Fiumicino, before the extensions planned for 2016.
LS travel retail Roma, since October 2012 the operator of the Duty Free / Duty Paid stores in Rome airports, was determined to make Fiumicino a model of excellence, and invested more than €13m CAPEX to completely revamp the existing stores and to create new ones.
These stores highlight the best of Italian brands and products in multiple product categories- Perfumes/Cosmetics, Liquor, Food and Tobacco – in a premium retail environment, matching the overall premiumisation of the retail environment that can be seen both on the High Street and in other international airports.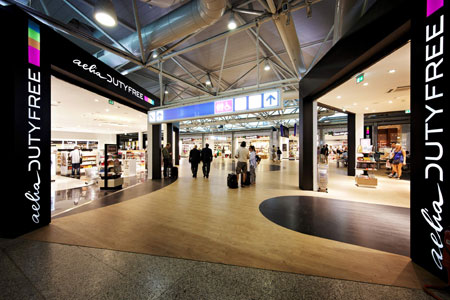 LS travel retail Roma is currently investing in more than 5,000 hours of intensive training, including its OSCAR programme, addressing all aspects of sales performance and in-store services. More than 90 fixed-term contracts were transformed into permanent contracts and over 70 part-time contracts were transformed into full-time contracts.
Despite the intense pressures over the past five years, Aeroporti Di Roma continues to develop its international network, especially its connections to the world's strongest growth areas such as the Middle East and Asia. Its MasterPlan is committed to increase the airport's capacity to 50 million passengers in the next decade. The goal of LS travel retail is to contribute to this objective by offering, today and in the airport extensions to come, the airport retail experience Rome deserves. This process of restructuring and carrying out changes to the layout and format of the business has no equal in Italy and it is certainly among the most important put in place in Europe in recent years.
Back to today, the LS travel retail business in Rome has shown clear signs of performance increase.
Dag Rasmussen, CEO of Lagardère Services, stated: "The great performance of these stores is due to the huge scale of our initial investment, our shared approach with Aeroporti di Roma, the quality of our retail strategies, these amazing new retail environments, the expansion and training of the sales teams, and the fantastic team spirit that is shared right across the airport."
Lorenzo Lo Presti, CEO of Aeroporti di Roma, added: "We are delighted to partner with LS travel retail, developing a retail airport experience that matches the very best in Europe. We feel that this is essential for Rome, one of Europe's greatest and most attractive cities".
Press Contact
For LS travel retail - Alexander Twose - Communication Manager - Lagardère Services - twose@LSNET.fr
For Aeroporti di Roma - Comunicazione Esterna - Tel.: 06 6595 8153/ 4709 - Cell: 3355766591 / 3382098246 - pressoffice@adr.it
About LS travel retail
Operating in more than 25 countries throughout Europe, North America, Asia and the Pacific, LS travel retail, a division of Lagardère Services, is a world leader in Travel Retail. It operates 2,700 stores across the world, including a presence at over 140 airports and 700 stations. It runs the largest internationalnetwork of duty free and luxury, travel essentials and foodservice stores. LS travel retail is the mother company of LS travel retail Roma,which manages 9 stores in Rome airports.
About Aeroporti di Roma
The ADR Group manages and develops Rome's Fiumicino and Ciampino airports, and also carries out other activities related and complementary to airport management. Fiumicino operates through four passenger terminals. It is dedicated to business and leisure customers for domestic, international and intercontinental travel; Ciampino airport is mainly used by low-cost airlines, by express couriers, and for General Aviation activities. In 2012, ADR recorded, as an airport system, almost 42 million passengers with about 230 destinations worldwide reachable from Rome, thanks to the more than 100 airlines operating at the two airports.
Email alert
To receive institutional press releases from the Lagardère group, please complete the following fields:
Register