Les Caves Particulières at Terminal 2E, CDG airport
Category
Lagardère Travel Retail
Paris, October 17, 2014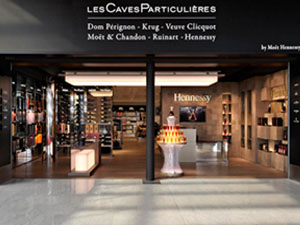 On 5th September, LS travel retail and Aéroports de Paris opened the first Moët Hennessy store: Les Caves Particulières.
A world exclusive, born out of the desire to offer travellers, travelling through terminal 2E of the Paris Charles-de-Gaulle airport, a sensory and taste exploration in a unique place, symbolising French excellence.
For Moët Hennessy, it was about promoting their heritage, by creating a concept inspired by the desire to stand out as a guarantee of heritage and real French expertise. The opening of this new store shows the attractiveness of Parisian airports. Now great houses no longer hesitate in opening up exclusive concepts at the heart of the hub of Paris-Charles de Gaulle airport.
For LS travel retail, this partnership with Moët Hennessy is clear recognition of their expertise, their ability to innovate and their quality in operational implementation. The shopping experience has therefore become even more unique at the heart of their Buy Paris DutyFree stores.
Supported by this exclusive partnership between Aéroports de Paris, LS travel retail and Moët Hennessy, this place is an introduction to sophisticated discovery in the heart of luxury.
Email alert
To receive institutional press releases from the Lagardère group, please complete the following fields:
Register