Launch of the new "VirginMega.fr" musical website
Category
Lagardère Travel Retail
Paris, May 25, 2004
Virgin Megastore and the Music department of Lagardere Active introduce the new version of the music download site
Today, when consciousness raising programs against piracy are launched, VirginMega.fr reinforces its leading position on the legal downloading market, with a brand-new site, in terms of product offer, features and user-interface.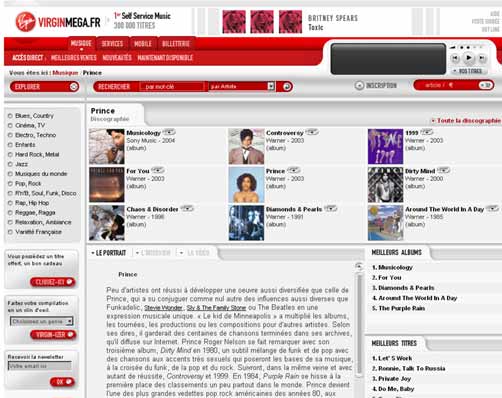 "Our will today is to offer a perfect service to our yearly 11 million customers (3 million different people) in VirginMegastore, our 6 million listeners on Europe 2 and RFM and our 2 million viewers on MCM" explain Jean-Noel Reinhardt, Virgin Megastore President and Christophe Sabot, General Manager of Europe 2 and RFM and President of the MCM Group.
Fortified by its two years experience and by its knowledge of the French market, the virginmega.fr site launches its new platform :
The most comprehensive offer: With more than 300,000 titles available, VirginMega.fr offers the most important numbers of titles in France, with catalogs of the 5 majors (BMG, EMI, Sony, Universal, Warner) as well as the ones of numerous independant labels (Naive, Dreyfus, Scorpio, Discograph…).
The power to buy per unit: For the first time in France, and in order to offer the greater freedom to websurfers, VirginMega.fr provides a fully customized offer of singles and albums (without commitments or subscriptions).
On VirginMega.fr, titles will be sold either €0.99 or €1.19 and albums either €9.99 or €11.99 .
A program that not only protects artists but also self-copy.
Every title can be :

"pre-listened to" during 30 seconds
downloaded
burned on a CD 3 times at least (or more depending on publishers policies)
transferred 3 times at least on a digital walkman (or more depending on publishers policies)
VirginMega.fr also provides rings and logo downloads for mobile phones and a ticket agency service.
Discover the Virgin Mega website : http://www.virginmega.fr
Email alert
To receive institutional press releases from the Lagardère group, please complete the following fields:
Register