Launch of StarHit a new celebrity publishing concept in Russia

Category
Lagardère Publishing
Paris, November 25, 2007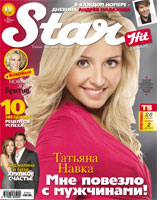 In tandem with its goal of accelerating its move to digital (both by acquisitions and website launches), Lagardère Active, which realizes more than half of its turnover abroad, is continuing its expansion in magazine publishing. The group announces its fourth magazine launch abroad since the beginning of 2007, following the launches of Domoï (March – Russia), Quo (April – China) and Riders (September – Italy)
With this latest launch in Russia, a key country for Lagardère Active – it is the second largest international contributor to the group's turnover after the USA – the group is entering a new market with five million potential readers and advertising ambitious goals.
Lagardère and its partner in Russia, Victor Shkulev, are launching StarHit, a celebrity weekly aimed at women.
The first issue will have an exceptional print run of 715,000, rather than the 500,000 initially planned.
StarHit will be distributed in 14 regions in Russia, at 18,000 sales outlets, and will contain features and television listings tailored to each region.
StarHit is positioning itself as a woman's celebrity weekly of 100 pages, focusing on:
celebrity exclusives ("hot" events, interviews with stars and photo reports, etc.)
fashion and trends
beauty
lifestyle (cooking, games, tests, etc.)
TV listings
Andrey Malakhov, the the most well known TV presenter in Russia, is StarHit's editor-in-chief.
Victor Shkulev, President of Hachette Filipacchi Shkulev (HFS) commented : "We are convinced that StarHit will occupy a unique position in the Russian magazine market. With an exceptionally high initial print run of 715,000 copies, this is the first weekly "people" magazine to be available to over 80% of the Russian population and contain local information and listings."
According to Jean de Boisdeffre, Deputy CEO International of Lagardère Active : "This launch – in a sector in which our group already has exceptional expertise worldwide, and especially in France, Italy, and Spain – demonstrates the determination of Lagardère Active to expand in high-growth markets."
The launch is accompanied by a marketing and promotion campaign worth over USD 10 million US dollars and covering all media (TV, billboards, press, radio, promotion at sales outlets, internet, and special events).
HFS is one of the leading publishers of upscale magazines in Russia, with such major international brands as ELLE, ELLE DÉCOR, MAXIM, MARIE CLAIRE, PARENTS, PSYCHOLOGIES, and DEPARTURES and a recently launched local brand, DOMOI.
IMG, an 85% owned subsidiary of Lagarardère Active's Russian division, is the leading publisher of TV guides – with ANTENNA and TELESEM being published in 66 major cities in Russia, Modavia, and Belarus.
Lagardère Active is the third-largest publisher of magazines in Russia.
Email alert
To receive institutional press releases from the Lagardère group, please complete the following fields:
Register