Launch of ELLE ORIENTAL in Beirut

Category
Archives Lagardère Active
Levallois, June 23, 2006
Hachette Filipacchi Médias
is innovating once again, with the launch of the 39 th international edition of its upscale women's magazine ELLE in Beirut, headed by Désirée Sadek.
It is the first upscale international trademark magazine to be published in the region.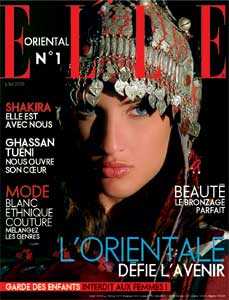 ELLE Oriental, a monthly, is published in Arabic and French and will be distributed initially in Lebanon, Egypt, Jordan and the Maghreb, aiming for a circulation of 45,000. The two versions will be visually identical, in order to capture both Arabic- and French-speaking readers, who are very different.
In October, the Pan-Arabic edition will follow, in Arabic language, visually and editorially adapted to the stricter Saudi norms. This edition will have a circulation of 100,000 in Dubai, Kuwait, Bahrain, Qatar, Saudi Arabia and Oman.
ELLE is more than a magazine, it's an identity.
Our goal is not only to successfully adapt this publication to the Arabic language, but also, and especially, to introduce a new face to the media scene: that of the Middle Eastern Woman. Neither hidden, nor unveiled. A woman with a unique identity that is definitely no mere imitation of Western women.

The French version of ELLE Oriental is designed for women who are cultivated, well anchored in their society and who have been open to modern ideas for a long time. These are women who have begun their process of liberation quietly, without clashing with men or established practices and customs. They are French-speaking and fond of France, with an avid desire to keep informed of events in the West, a passion for fashion and beauty, and pride in their identity.
In Arabic, ELLE Oriental is also aimed at women who are cultivated, well-traveled, and creative and successful in cultural, social and artistic domains. Without showing themselves! These Middle Eastern women are multi-faceted, coming from several Arab countries, although they share universal concerns.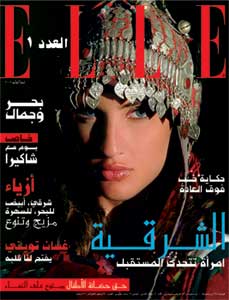 In both editions, the women will be as beautiful as their Western counterparts, if not more so.
They will dress without undressing, but also without hiding. Their fashions will be trendy without being vulgar and the women will not be sex objects. Editorially, in topics such as sex, sociology, psychology, law, etc., there will be no taboos, but the writing will be neither demagogic nor provocative; it will adopt a humorous and modern tone. Our goal is to combine fashion designers and accessories from both worlds, modeled and photographed as naturally as possible.

The visual aspect of ELLE Oriental is essential, with special attention to the cover, which will be an artistic and socio-cultural event. The styles of beauty will be diverse, portraying women from different Arab countries.
ELLE Oriental is both a lovely promise and a serious bet, aiming to show that the line between West and East is no abyss! In order to carry out her assignment, Désirée SADEK will be surrounded by a Committee of Middle Eastern women, based in both the East and the West, from a variety of social and economic backgrounds. This Committee will support the publication in the countries where it is distributed and will constitute a pressure group for crucial humanitarian and social issues. The impact of their activities in these areas will be reinforced by the attribution of awards.
The launch of ELLE Oriental is backed by a promotional campaign, with the slogan "ELLE, c'est vous " (ELLE is you).
Cover visuals available on request.

Press contact:
Valérie BLONDEAU - 33 (0)1 49 68 59 76 - fax: 33 (0)1 49 68 12 13 - mob: 33 (0)6 09 90 86 66 - e-mail: vb@komunik-actions.com
Email alert
To receive institutional press releases from the Lagardère group, please complete the following fields:
Register