Lagardère Travel Retail launches the first autonomous shop at Hong Kong International Airport

Category
Lagardère Travel Retail
Hong Kong, 11 April 2023
Lagardère Travel Retail unveils its autonomous convenience store, Travelwell, at Hong Kong International Airport, enabling passengers to experience a real grab-and-go purchase without stopping for checkout at the cashiers.
The store is located near gate 24, at the entrance of Sky Bridge, the world's longest airside bridge which connects Terminal 1 and Satellite Concourse of the airport. Its captivating, futuristic store design perfectly complements the extraordinary, panoramic view of the airport, becoming a new destination at HKIA.
The store deploys AI system and computer vision technology which streamline the shopping process in a brick-and-mortar store, enabling passengers to experience a real grab-and-go purchase without stopping for checkout at the cashiers. The intelligent AI system utilizes various types of algorithms to track the movement of the products as well as the gesture of the customers to ensure shoplifting is impossible and purchases are accurate.
Customers enter the store by tapping a credit card on or inserting it into the payment terminal. After finish shopping, they simply exit the store with the items selected. The credit card will then be charged for the items purchased. Customers may print their receipts at the receipt printers next to the exit gate, the whole shopping process is fast and straightforward. There are illustrations of the shopping procedure inside and outside of the store. In addition, a staff is stationed at the store to answer questions and provide guidance to customers to ensure customers enjoy the new, seamless shopping experience.
The 88 sqm store is designed to be a one-stop convenience store where passengers can find pre-flight necessities and do some last-minute shopping before boarding. A wide range of packaged food, ready-to-eats, beverages, travel essentials, and local souvenirs are on offer at Travelwell.
Lagardère Travel Retail first came up with a high-tech concept store back in 2019 as part of development plan to HKIA. With the belief that cashier-less shopping would be the next big trend in the retail industry. In 2020, the pandemic brought international travel to a standstill; airports had become high risk to travelers. The travel retailer believes that the pandemic has shaped the new norms; maintaining good personal hygiene and completing daily routines with minimal human interactions to prevent risk of infection given the acceleration of digital shift during the pandemic, such as common usage of contactless payment, increasing reliance of e-commerce and online learning. The above observations have reinforced the demand for an autonomous shop in which passengers can undergo a swift, contactless, and seamless shopping experience. In addition, travelers are expecting more from a brick-and-mortar store, perhaps, a new kind of shopping experience. The Airport Authority and Lagardère Travel Retail join hands to bring this autonomous store to life, with an aim to elevate the HKIA experience to another level.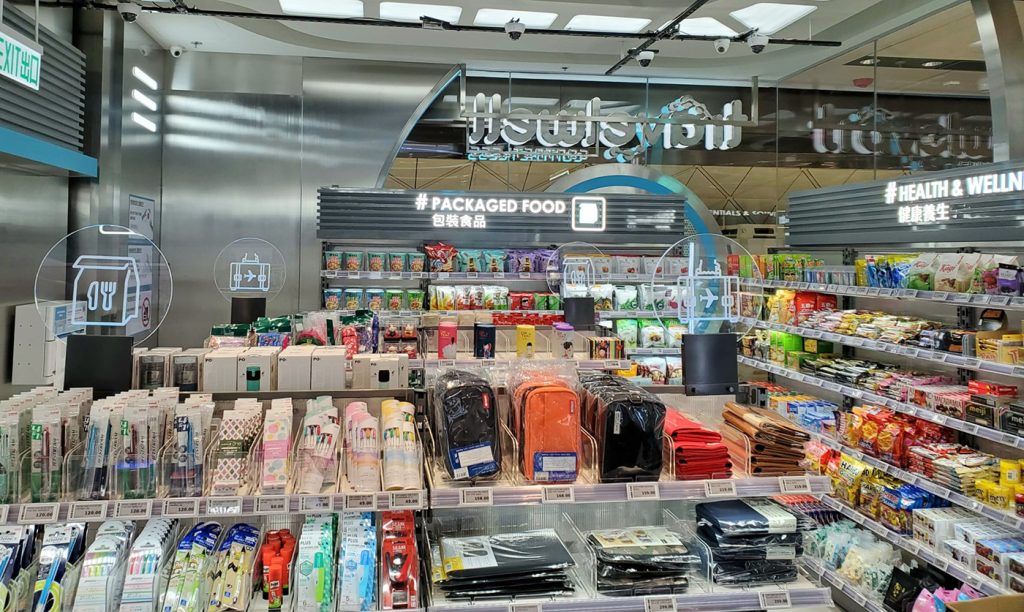 Séverine Lanthier, Asia Chief Operating Officer & Group Chief Strategy and Development Officer at Lagardère Travel Retail, commented: "We are grateful to have benefitted from the support of the Airport Authority Hong Kong and of business partners to pioneer this technology-led, innovative new store. Our Travelwell store and the beautiful Sky Bridge are a natural fit to each other. I hope the new shopping experience will appeal to travelers and become a memorable part of their journey. This project represents a key milestone in our ambitious roadmap to innovate to elevate the traveler shopping experience."
ABOUT LAGARDERE TRAVEL RETAIL
One of the two divisions of Lagardère group, Lagardère Travel Retail is a leading global Travel Retailer, with the longest standing expertise of holistically serving the needs of travelers and partners across Travel Essentials, Duty Free & Fashion and Foodservice. Lagardère Travel Retail operates over 5,000 stores in airports, railway stations and other concessions in 42 countries, and has generated €5.2 bn in sales (100%) in 2022.
Through locally-empowered teams and value-creating partnerships, Lagardère Travel Retail develops comprehensive and authentic travel experiences. Lagardère Travel Retail is championing sustainability in Travel Retail through a dedicated CSR strategy, aligned to the United Nations' Sustainable Development Goals.
www.lagardere-tr.com ● @LagardereTR
Email alert
To receive institutional press releases from the Lagardère group, please complete the following fields:
Register