Lagardère Services unveils a new approach to fashion, launching 'The Fashion Gallery' at Changi T2 (Singapore)

Category
Lagardère Travel Retail
February 8, 2011
Today, 8 February 2011,
Lagardère Services Asia Pacific (LS ASPAC) celebrates the opening of The Fashion Gallery; a specialist, luxury-brand fashion store at Changi Airport, Singapore – one of Asia-Pacific's prime gateways.
The Fashion Gallery is the most dynamic expression of Lagardère Services' ability to create exciting retail solutions that go beyond travellers' expectations and deliver airports' needs. The new store reinforces Lagardère Services' luxury brand expertise and represents a step change in its fashion store experience in the region, evidencing an innovative and excitingly fresh approach to high-end fashion retailing. The launch also includes travel retail's first ever facebook 'magic mirror' social media marketing campaign.
Located in Departure Lounge North in Terminal 2, the 764 m2 'The Fashion Gallery' store is one of the region's largest multi-brand airport fashion outlets. Created to provide an exceptional fashion shopping experience, the stylish and elegant store showcases a range of 17 internationally-renowned luxury designer fashion brands. Each brand has been carefully selected to meet the desires of the luxury shoppers among the 12 million international passengers travelling through Changi T2 every year.

Tailoring the range specifically to the Changi passenger, Lagardère Services is working with a number of new brand partners including agnes b., Loewe, Bottega Veneta, Cartier, Bally, Tod's, Bvlgari, and Folli Follie. Of Lagardère Services' established brand partners, Boss, Chloe, Dunhill, Salvatore Ferragamo, Pandora, Swarovski, Tumi and Yves Saint Laurent all have a presence at The Fashion Gallery. Labels making their debut at Changi Airport in The Fashion Gallery are agnes b., Follie Follie, Loewe and Longchamp. All ranges have been selected to include the current season's best-sellers.
The store has a very stylish design with brands presented in customized brand zones around a main walkway, defined by contemporary lighting, and making the store easy to shop and navigate.
To enhance the shopping experience, staff at The Fashion Gallery are trained in sales techniques, language courses and have intensive product knowledge, having followed the ISO 9001 accredited OSCAR training programme.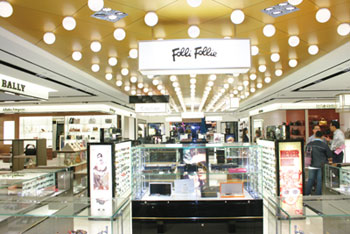 Emmanuel de Place, COO Lagardère Services, with responsibility for Lagardère Services ASPAC, says: "The Fashion Gallery is an exciting breakthrough for Lagardère Services in the region. It fully demonstrates our wealth of expertise and knowledge in high-end and luxury retailing and our ability to create exceptional fashion experiences. We are delighted to be celebrating its launch today with our partners at Changi Airport, and to be complementing Changi's formidable reputation for its exciting retail offer.
"At Lagardère Services, we are committed to understanding, engaging and satisfying shoppers by creating exciting retail concepts that deliver exceptional results for ourselves and our business partners. Working closely with our sister company Aelia, blending our global and local expertise, we believe we have created an innovative and exciting fashion experience for the discerning Changi shopper."
Aelia's Chairman and CEO, Jean-Baptiste Morin, comments: "Working with Emmanuel's team in Singapore and building on Aelia's established brand partnerships, we've created opportunities at Changi for new and existing brand partners. Together, we have tailored the range selection and created a retail experience that we believe will delight and inspire the luxury fashion shopper at Changi."
Speaking at the launch Mr. Lee Seow Hiang, Chief Executive Officer CAG, said: "As an airport we are committed to delivering great environments for our passengers. Lagardère Services has a strong track record in fashion retailing and an impressive array of top brands. This store builds on our strong partnership of innovation to the benefit of our passenger."
Mr Lee went on to say: "Like our partners at Lagardère Services, we at Changi positively challenge ourselves to push the boundaries by bringing in new, exciting, fresh products and brands and offerings. The Fashion Gallery we are witnessing is a classic example of how, by working together, we can project that innovation in our retail."
Innovative Facebook 'Magic Mirror' Campaign To Drive Pre-Planned Purchasing
Lagardère Services' launch of The Fashion Gallery includes a 'travel retail first' in the form of an innovative social media marketing campaign aimed directly at travellers to create pre-awareness of the store and its offer, encouraging shoppers to pre-plan their visit by becoming a member of The Fashion Gallery facebook page. On airport, the launch activity includes a Fashion Fortune Parade; an entertaining catwalk of models showcasing iconic accessories from the Spring Summer 2011 fashion ranges. In the store, shoppers are encouraged to browse for potential purchases and, using a specially installed facebook 'magic mirror', to capture a stylish image of themselves, sent directly to their facebook page, to share with friends around the world.
Commenting on the facebook 'magic mirror' campaign, Emmanuel de Place, COO Lagardère Services, with responsibility for Lagardère Services ASPAC, says: "The discerning and social media-savvy profile of the international Changi shopper lends itself well to our innovative trial of consumer-direct engagement using the facebook 'magic mirror'. This is not only creating a sense of theatre in-store but is also driving awareness of The Fashion Gallery to consumers worldwide and encouraging pre-planned shopping visits when travelling."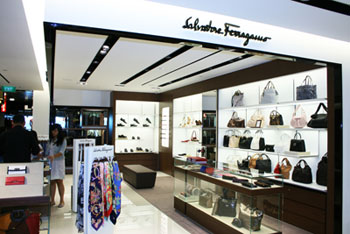 Extension of Existing Fashion Expertise, Globally and Locally
The Fashion Gallery store opening follows the recent success of Lagardère Services in developing an exceptional new shop-in-shop fashion concept at Sydney Airport, including collections from Hugo Boss, Ermenegildo Zegna, Salvatore Ferragamo, Etro, Tumi and Porsche Design. Lagardère Services also recently won three further concessions at Changi, all in Terminal 1: two mono-brand fashion stores, for Dunhill and Longchamp, which are due to open in Spring 2011, as well as a Confectionery concession.
In Europe, Aelia's fashion portfolio includes over 20 dedicated mono-, duo- and multi-brand stores in France – offering brands such as Hermès, Ralph Lauren, Hugo Boss, Yves Saint Laurent, Longchamp, Salvatore Ferragamo, Céline, Montblanc, Furla and Burberry – as well as a new mono-branded Longchamp store in the UK at Heathrow Terminal 1. Aelia has also won two significant multi-brand fashion contracts for stores in Spain, at Malaga and Alicante Airports.
Notes to editors
Lagardère Services ASPAC and Aelia are sister companies within the Lagardère Services group. The group operates nearly 4,000 Travel Retail stores across the world, including a presence at over 120 airports, and is the channel's leading News and Convenience retailer.
Lagardère Services Asia Pacific is the region's leading news and books travel retailer and operator of the Relay and Newslink concepts. Its growing portfolio of innovative speciality retail concepts includes Discover (gifts and souvenirs), Virgin (multimedia), Kaboom (toys), Lonely Planet (travel and books) and many more. The company also operates a number of branded stores including Smiggle (stationery) and Billabong (fashion). In total LS ASPAC operates more than 150 outlets in Australia, China, Hong Kong, Taiwan and Singapore.
Aelia, the Duty Free and luxury goods specialist, operates over 170 stores at 28 airports, including Paris Charles de Gaulle, Nice Côte d'Azur, London Luton, Malaga, Prague Ruzyne and Warsaw Frédéric Chopin. The group also operates sales on board airlines through subsidiary Aeroboutique Inflight Retail, at port stores in Spain (Barcelona, Valencia and Palma de Mallorca) and at the Eurotunnel and Eurostar terminals on the French mainland.
The social media pages for The Fashion Gallery store are:
The Lagardère Services group's extensive Travel Retail expertise covers 20 countries across four continents. The group includes HDS Retail North America, which operates over 350 news, gift and specialty stores, plus several local subsidiaries across Europe.
Email alert
To receive institutional press releases from the Lagardère group, please complete the following fields:
Register