Lagardère Services Asia Pacific to bring jewellery icon, Pandora, to Changi Airport

Category
Lagardère Travel Retail
Paris, May 10, 2010
The travel retail specialist is delighted by the recent award of a 50sqm concession in the airport's upgraded Terminal 1, for Pandora, one of the world's most recognised jewellery brands.
Founded in Copenhagen in 1982, Pandora jewellery is sold in more than 10,000 retail outlets in 25 countries around the world, including more than 250 concept stores, a figure that is growing weekly. The range–of handmade Danish design–includes charm bracelets, rings, earrings and necklaces, made from the finest 14k gold, sterling silver, precious stones and the famous Murano glass.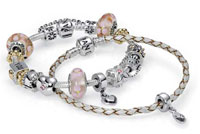 Pandora's Travel Retail Director, Julian Mullins said "At Pandora we are thrilled at this new venture at Changi Airport in partnership with the team at Lagardère Services Asia Pacific. Changi Airport is one of the most prestigious and progressive airports globally and was a natural choice as a next step in Pandora's global Travel Retail strategy. In Lagardère we have an enthusiastic global partner whose regional strength in Asia provides a perfect foundation for further developments; we are truly excited about this new venture."
Lagardère Services Asia Pacific has a long history of operating retail outlets at Changi Airport and are proud to be adding Pandora to their portfolio of concepts at the gateway location. CEO, Scott Raisin explains "Our operations at Changi is a very important part of our business in the region. Changi is one of the world's most awarded airports and it gives us great pleasure to be able to add Pandora to our network of retail stores there. Pandora is well known throughout Europe, North America and the Pacific; and we are excited to be chosen as an operator for the brand in the region."
Contact:
Scott Raisin, Chief Executive Officer - Telephone: Australia +61 2 8218 1199 - Hong Kong +852 3769 7499 - Singapore +65 6593 1799 - Email: scott.raisin@lsaspac.com
Lagardère Services Asia Pacific is the region's leading news and books travel retailer and operator of the Relay and NewsLink concepts. Its growing portfolio of innovative specialty retail concepts includes Discover (gifts and souvenirs), Virgin (multimedia), Kaboom (toys), Lonely Planet (travel and books) and many more. The company also operates a number of branded stores including Smiggle (stationery) and Billabong (fashion). In total Lagardère Services Asia Pacific operates more than 150 outlets in Australia, China, Hong Kong, Taiwan and Singapore.
The company is part of the global Lagardère Services group, whose extensive Travel Retail expertise covers 20 countries across four continents. The group also includes duty free and luxury goods specialist, Aelia.
Email alert
To receive institutional press releases from the Lagardère group, please complete the following fields:
Register