Lagardère Services and Moa concluded a franchise agreement to develop stores in central and eastern European countries

Category
Lagardère Travel Retail
Paris, October 25, 2007
First mōa store in Romania
As part of the diversification project, mōa and Lagardère Services concluded a franchise agreement to develop môa stores in central and eastern European countries where Lagardère Services is present.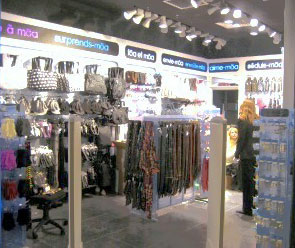 mōa , a French company, is specialized in marketing fashion articles, such as jewellery, scarves, shoes and bags for youngsters and teens. It has been on the French market for some ten years and is growing rapidly. They now focus on developing on international markets, notably through franchises.
As part of this agreement, the very first mōa store was opened on October 12th in the shopping mall of the first Carrefour supermarket of CLUJ in Romania. It is a 36 sqm store offering the full standard range of fashion articles.
The mōa merchandising team was present one week before the opening in order to assist the HDS Inmedio team in receiving the goods, relabeling and arranging them in the store. This "small" location compared to standard môa stores is meant to be a pilot and the results of this first week are very encouraging.
Other mōa stores will be opened in Romania. BUCAREST is the next city on the list, as the Orhideea shopping mall will host the next môa store (50 sqm) on December 1st.
Email alert
To receive institutional press releases from the Lagardère group, please complete the following fields:
Register