Lagardère Active launches the first international edition of Riders in Brazil

Category
Archives Lagardère Active
Paris, November 5, 2010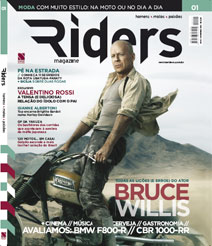 Surfing on its success on the Italian market, Riders, published by Hachette Lifestyle Media, Lagardère Active's Italian subsidiary, launches the first international edition of Riders in Brazil.
Riders is an upscale men's magazine with a unique editorial concept which introduces readers to the world of two-wheeler buffs and their lifestyle. Riders Italy was launched in September 2007, and each month invites its readers on an extraordinary journey into the world of two-wheelers, with celebrities' stories, experiences and emotions, as well as reportages and exclusive interviews, cult events and places, itineraries, news, fashion, etc…
Today, The Italian edition of Riders:
Sells 58,198 copies a month (average sales over the August 2009 – July 2010 period)
Has some 300,000 readers
And a dedicated website, www.riders-online.it
Riders Brazil will hit the newsstands on 8 November as part of a licensing agreement signed with Nastari Editores. Edson Rossi will be editor-in-chief.
According to Jean de Boisdeffre, General Manager of Lagardère Active's international magazines:" We are very happy to have signed this agreement with Nastari Editores, who is a dynamic partner with a recognized know-how and expertise in magazines. We are certain that Riders, thanks to the quality of its editorial concept, will revitalize the men's magazine market in Brazil and will win over readers and two-wheeler fans by offering them a unique product that meets the aspirations of modern men ».
Alfredo Nastari, Publisher of Nastari Editores, said: «We are proud to launch the publication of Riders in Brazil, a new creative and contemporary title that will surely influence the men's magazines segment in the Brazilian Market. Riders is, first and foremost, targeted at bike riders and two-wheeler fans. This positions Riders as one of the most innovative and differentiated magazines in the magazine market in Brazil »
About Nastari Editores
Nastari Editores, which takes its name from its founder and publisher Alfredo Nastari, started its activities in January 2010. It focuses on glossy publications targeted at both men and women aged 30 year and older, professionally successful with a lifestyle linked to outdoor activities. In addition to Riders, Nastari Editores also publishes sports and travel magazines
About Lagardère Active
Lagardère Active (Print, audiovisual and digital Activities) is one of the 4 corporate brands of Lagardère SCA, alongside Lagardère Publishing (books), Lagardère Services (Distribution and Services) and Lagardère Unlimited (rights management and commercial use of the image of athletes and entertainers in France and abroad).
Lagardère Active is present in magazine publishing, radio, themed TV channels, TV production, audiovisual distribution, digital media and ad selling.
The division is present in 45 countries and has a leading position in upscale magazine publishing with over 200 magazine titles (including licenses). Its main brands include upmarket magazines such as ELLE and its 43 international editions as well as international brands such as Psychologies, Red, Elle Décoration, Riders, Car & Driver
Lagardère Active in 2009 had consolidates sales of 1.72 billion euros (of which 46 % were generated abroad).
Email alert
To receive institutional press releases from the Lagardère group, please complete the following fields:
Register