Lagardère Active launches Elle in Indonesia and Finland

Category
Archives Lagardère Active
Paris, March 17, 2008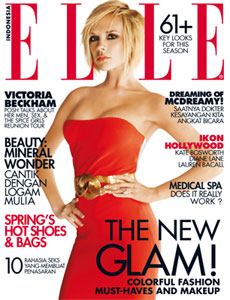 Lagardère Active is expanding its ELLE network with two new international editions: ELLE Indonesia and ELLE Finland. These latest launches (there have been 13 since 2000) bring to 41 the total number of editions worldwide.
Each month, ELLE has:
– 23 million readers worldwide – a monthly worldwide circulation of 6 million copies.
The strength of the ELLE network (76,000 editorial pages and 56,000 advertising pages per year), makes ELLE the worldwide leader in the publication of upscale women's magazines, with a 30% share of the advertising market (source: Secodip Magtracks 2006).
At the end of 2007, ELLE had 27 websites worldwide, with 6 million unique visitors and 91 million page views.
Lagardère Active is pleased to announce the signature of a license with PT Trinaya Tirta for the launch of ELLE Indonesia on 28 March 2008. Adeline Juni Mewengkang has been appointed editor-in-chief.
Lagardère Active will also launch ELLE Finland on 17 April 2008 (May issue) under a licensing agreement with the Aller Group, a Scandinavian publisher and the purchaser last November of Lagardère Active's Swedish subsidiary. Mirva Saukkola was named editor-in-chief of ELLE Finland, the first international upscale woman's title to be launched in the Finnish market.
According to Deputy CEO International of Lagardère Active, Jean de Boisdeffre, "These license agreements are part of Lagardère Active's new global strategy of developing in certain markets via licensing arrangements. Thanks to the considerable know-how of our partners in consumer magazines, our brands' expansion is continuing at a sustained pace."
About PT Trinaya Tirta
PT Trinaya Tirta, the leader in the Indonesian market for women's magazine, publishes the magazines Kartini and Kartika and had revenues of 10 million euros in 2007.
About the Aller Group
With a total of 88 titles, Aller is one of the Nordic countries' leading magazine publishers with over 16 million readers and a total circulation over 5,2 million copies. In 2007, Aller Group had revenues of 546 million euros. The group is one of the most popular publishers in Finland, with six titles: 7 Päivää, Oho!, Katso, Koti & Keittiö, Fitness and Miss Mix. The entertainment and tv magazine 7 Päivää is the N°1 weekly in circulation in the Nordic countries.
About Lagardère Active
Lagardère Active (magazines, TV, radio, internet and advertising sales) is one of Lagardère SCA's four major corporate brands, alongside Lagardère Publishing (books), Lagardère Services (distribution and related services) and Lagardère Sports (broadcasting and sports rights management.) Lagardère Active operates in 42 countries worldwide and is an international leader with nearly 235 magazine titles that account for 900 million copies sold each year, 26 radio stations and 10 TV networks. In 2007, Lagardère Active realised consolidated sales of 2.29 billion euros (54% outside France, regional daily news not included).
Email alert
To receive institutional press releases from the Lagardère group, please complete the following fields:
Register