Lagardère Active launches ELLE Denmark and ELLE Dekor Serbia

Category
Archives Lagardère Active
Paris, September 29, 2008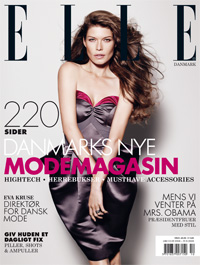 Following the launch of the Indonesian and Finnish editions of ELLE last spring, Lagardère Active is continuing to roll out the brand internationally with the launch of ELLE Denmark and ELLE Dekor Serbia.
The benchmark title in upmarket women's magazines, ELLE continues to be an international success with 42 editions, for a total of 23 million readers with 6 million copies sold, plus 24 editions of ELLE Decoration, which has more than 8 million readers with 2.2 million copies sold.
ELLE is a worldwide advertising leader in upmarket women's magazines thanks to its powerful network. Taken together, its titles carry over 55,000 pages of advertising, giving it 30% market share (source: Secodip Magtracks 2006).
In the upmarket home-decor segment, the ELLE Decoration network, which carried over 14,000 pages of advertising in 2007, has solidified its clear leadership position with the launch of its 24th edition.
In 2008, ELLE had 27 websites around the world, with 7 million unique visitors and 91 million page views.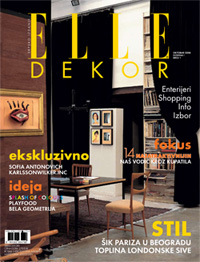 Lagardère Active is launching ELLE Denmark on 22 September under a licensing agreement with Scandinavia's Aller Group publishing house. Lagardère Active sold 100% of its Swedish subsidiary to this publisher last November, and a licensing agreement was reached with Aller Group for the Finnish edition of ELLE in April 2008. Cecilie Chritiansen has been appointed editor-in-chief of ELLE Denmark, the leading international upmarket women's fashion magazine on the Danish market.
Lagardère Active is launching ELLE Dekor Serbia on 20 September under a licensing agreement with Adria Media (Sanoma Group). Ivana Vujevic has been appointed editor-in-chief. Adria Media already publishes ELLE Serbia.
Jean de Boisdeffre, managing director of International Press and Magazines at Lagardère Active, is pleased to point out that, "With these new licensing agreements, we are continuing the roll-out of our international business as part of Lagardère Active's new global strategy. We are happy about our continuing cooperation with Aller Group, a trusted partner with a well-established reputation for expertise in the magazine market. And with Adria Media, we are boosting our world leadership in the upmarket home-decor publication segment."
About Aller Group:
Aller, one of the main press publishers in Scandinavia, has a portfolio of 88 titles, readership of over 16 million and circulation figures of over 5.2 million copies. In 2007, Aller generated sales of 546 million euros. The company occupies a solid position in Denmark, with some 30 titles and 71% market share for weekly publications.
About Adria Media:
Adria Media Serbia is a subsidiary of AM Holding, a 50/50 joint venture between Sanoma Magazine International and G+J. AM Holding operates in three countries – Serbia, Croatia and Slovenia – and publishes 39 titles. Adria Media Serbia, the leader on the Serbian market, publishes 12 titles.
About Lagardère Active:
Lagardère Active (Press and Audiovisual) is one of the four major corporate brands of Lagardère SCA, alongside Lagardère Publishing (Books), Lagardère Services (Distribution and Services) and Lagardère Sports (Broadcasting and Sporting Rights Management). Lagardère Active operates in over 40 countries worldwide and occupies a leading position on the international stage with some 235 magazine titles that sell 900 million copies each year, 26 radio stations and 10 television channels. In 2007, Lagardère Active generated consolidated sales of 2.29 billion euros (including 54% of sales generated internationally, excluding the regional daily press).
Email alert
To receive institutional press releases from the Lagardère group, please complete the following fields:
Register