Lagardère Active launches Be, a new global media brand

Category
Archives Lagardère Active
Paris, March 17, 2010
Lagardère Active is launching Be, the first 360° global media brand. Be is an upscale, generational brand directed at women in their early 30s.
This is the fruit of a brand management approach, initiated 2 years ago, that targets those market segments where Lagardère Active occupies a leadership position and is thus able to deploy its brands across such segments, using all the vehicles and media of the Group.
Be is a brand endowed with a powerful personality, which is at once off-the-wall, sparkling, friendly, chic, daring and pop. The brand is embodied through young women that make up its community « The Bees ». Bees will readily understand the brand's core purpose: to be able to network on be.com, voice their opinion in the pages of the magazine, express their ideas on the air, on blogs and forums and be the heroines of a TV series as well as shopping the Be Boutique online ….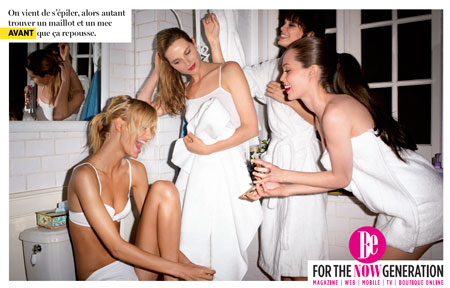 Be will make full use of all Lagardère Active's media:
A weekly, upscale magazine that is at once chic, funny, sassy, inquisitive and non-consensual.
Be will go on sale each Friday, beginning on 19 March, at a cover price of 1.50€ and with an introductory offer of 1 €. It focus on 4 editorial themes: News, Fashion, H&B, psychology and sexology.
In its very first issue, Be will feature over 60 pages of advertising (out of a total of 172 pages).
The goal is for the magazine to reach a circulation of 160,000 copies.
A site, Be.com, dedicated to the Bees community, first expression of the brand, which went on line on 4 January and had already 400,000 Unique Visitors by the end of February.
An iPhone application, launched on 5 February, to enable members of the Bees community to stay in touch with each other and share their finds, exchange news and access playful exclusive functionalities which users will have to pay for.
TV and video programs, with June, Virgin 17 and Lagardère Entertainment in order for members to share the everyday life of the editorial room and join the Bees community.
A Web radio and Be's playlist with Virgin radio.
An e-commerce offering, the Be Boutique, which is a mini concept store packed with exclusive offers and items on preview.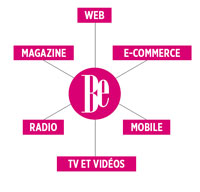 Didier Quillot, CEO of Lagardère Active: «I am thrilled to be launching Be, the first 360° global media brand, an upscale, generational brand that will appeal to all women in their Thirties. Be will be deployed across all of Lagardère Active Group's vehicle and media. This is the result of a brand management approach in which all teams and talents at Lagardère Active were actively involved. This synergizes perfectly with our strategy of rolling out leading brands on key market segments such as news, women's and entertainment magazines».
Head of Communication of Lagardère Active
Delphine Marçais
BE contacts
Brand Manager - Nathalie Beguinot
Magazine Anne Bianchi , Managing editor
Be.com Valérie Brouchoud, Site editor
Advertising Aurore Domont - Assistant General Manager of Lagardère Publicité
Email alert
To receive institutional press releases from the Lagardère group, please complete the following fields:
Register