Lagardère Active announces the lauch of ELLE CHINA semi-monthly edition starting February 2012

Category
Archives Lagardère Active
Paris, February 7, 2012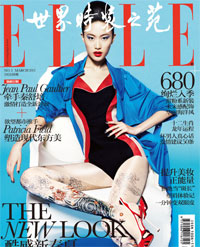 Lagardère Active is proud to announce that its international edition, ELLE CHINA, will become semi-monthly as of February 5, 2012, with publication on 5th and 20th of each month.
The first international fashion magazine to launch in China in 1988, ELLE CHINA has a unique and upscale editorial positioning that resonates with readers in the region.
Since 2009, ELLE has always been the Chinese market leader both in circulation and advertising. This move to publishing semi-monthly reflects ELLE China's insight of the rapidly evolving market as well as its desire to fulfill local consumer needs.
With a new editorial formula, each issue will now average between 280 and 400 pages and will be priced half of the previous price for monthly ELLE.
To celebrate this launch, ELLE China will organize a special China Fashion Night in Paris on March 6, during Paris Fashion Week.
Today, ELLE is the world leader in the upscale women's magazines segment with:
43 editions published in the 5 continents,
21 million readers worldwide,
a total circulation of 6.6 million copies per month,
85,000 editorial pages and 51,700 advertising pages each year.
ELLE CHINA is published under licence by Hearst Magazines China.
Bruno Lesouëf, CEO of the French and International Magazine Publishing division of Lagardère Active said: "We are very enthusiastic by this first edition of ELLE to be published twice a month. We are also happy that this initiative takes place in China, in partnership with Hearst Magazines International. This is a fantastic opportunity for our brand."
Duncan Edwards, President and CEO of Hearst Magazines International: "ELLE China has had much success with both readers and advertisers and we are pleased to be increasing its publishing schedule to twice a month."
About Lagardère Active
Lagardère Active is one of Lagardère SCA's four corporate branches, together with Lagardère Publishing (books), Lagardère Services (press distribution and services) and Lagardère Unlimited (marketing and management of sports broadcast rights, talent representation for athletes and artists).
Creator of multimedia content, Lagardère Active has leading positions in the businesses it operates, including magazines publishing, audio-visual (radio, TV and TV production), digital (pure players sites, mobile applications and tablet applications) and advertising. Lagardère Active, the number one of French Magazine Publisher and owner of the ELLE brand and its derivatives, licenses them:
To Hearst in 14 countries (corresponding to 15 editions of ELLE).
To 21 other partners in 26 countries; corresponding to 27 editions of ELLE.
The ELLE network today includes 43 international editions and the ELLE Decoration network includes 25 international editions.
About Hearst Magazines International
As the largest U.S. publisher of magazines worldwide, Hearst Magazines International, a unit of Hearst Corporation, publishes more than 300 editions for distribution in more than 100 countries. Major titles include powerful brand equities like Cosmopolitan and ELLE, both international super-brands with more editions than any other women's magazines in the world; ELLE Decoration, Esquire, Good Housekeeping, Harper's BAZAAR, Popular Mechanics, and Seventeen. In addition, Hearst Magazines International publishes other titles through joint ventures, including Men's Health and Runner's World in the U.K., Grazia and Madison in Australia, and The Robb Report in Russia and China. In Great Britain, a wholly-owned subsidiary, Hearst Magazines UK, publishes 23 magazines and 22 digital assets. Hearst Magazines publishes 20 titles in the U.S.
Email alert
To receive institutional press releases from the Lagardère group, please complete the following fields:
Register