Jean-Luc Lagardère Foundation: Mangas take up residence at the Maison de Solenn
Category
Corporate & other activities, CSR
Paris, May 30, 2006
The Jean-Luc Lagardère Foundation is organizing an exhibition on "The Secrets of the Manga Phenomenon" at the Maison de Solenn, 97 boulevard de Port-Royal in southern Paris from May 31 to June 30, 2006.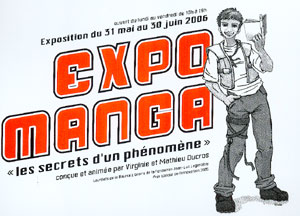 Since its inception in December 2004, the Maison de Solenn has been responding to the problems of adolescents by focusing on a "cultural care" approach, designed to address their cultural and educational needs alongside their purely medical requirements.
According to Professor Marcel Rufo, medical director of the establishment, the only one of its kind in Europe, "Mangas are a coded language, an expression of adolescence. This exhibition, organized by the Jean-Luc Lagardère Foundation, will allow us to gain a better understanding of the manga culture and of the way adolescents who are excited by design and illustration interact with the world. It will be the starting point for an exchange of ideas in which we'll be expanding our horizons thanks to the world of adolescents."
This exhibition is a demonstration of the Jean-Luc Lagardère Foundation's desire to support the Maison Solenn, for which it has already created a media library. "We have a strong belief in Professor Marcel Rufo's innovative approach," observes Arnaud Lagardère, "and we will do all we can to support him."
The exhibition was designed by two winners of the Jean-Luc Lagardère Foundation's booksellers' grant, Virginie and Mathieu Ducros.
It will be opened on Wednesday, May 31, 2006 at 12:30 pm by Madame Bernadette Chirac, wife of the French President and president of the Hôpitaux de Paris-Hôpitaux de France Foundation, which helped set up the Maison de Solenn in partnership with the Paris Hospitals Welfare Service.
The Jean-Luc Lagardère Foundation Web Site:
www.fondation-jeanluclagardere.com
Email alert
To receive institutional press releases from the Lagardère group, please complete the following fields:
Register