Jean-Luc Lagardère Foundation grant winner Marc Victor covers the Transorientale Rally Raid

Category
Corporate & other activities
Paris, June 12, 2008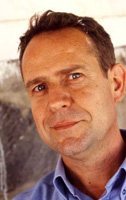 Journalist-writer Marc Victor, 1990 winner of the Jean-Luc Lagardère Foundation's* Journalist grant, will provide an eyewitness account of the first Transorientale, the marathon rally raid being organized by Lagardère Sports and René Metge. The race, which leaves St Petersburg on Thursday 12 June, crosses Russia and Kazakhstan to end on 28 June at the foot of the Great Wall of China in Beijing.
Marc Victor will be the passenger of Jean-Louis Schlesser, two-time winner of the Paris-Dakar Rally and three-time winner of the Rally Raid World Cup, who will follow the Discovery Raid course, an itinerary that parallels the course of the race itself. He will send back daily news chronicles and photos that can be consulted as of 12 June at http://www.parismatch.com. His travel diary will later be published by Editions EPA (Hachette Illustré).
According to a statement issued by Renaud Leblond, director of the Jean-Luc Lagardère Foundation, and Stephane Schindler, chief operating officer of Lagardère Sports, "When the creativity of the foundation's talent grant winners is paired with a major sporting event, the adventure is bigger and better than ever."
* This year the foundation will once again award €255,000 in grants to creative minds in 10 disciplines (digital artist, photographer, bookseller, film producer, musician, writer, animated film director, print journalist, TV scriptwriter and documentary director). The Print Journalist grant is for €10,000.
The Jean-Luc Lagardère Fondation contact:
Transorientale Rally Raid contact:
Email alert
To receive institutional press releases from the Lagardère group, please complete the following fields:
Register