Jayne Mansfield 1967 (Grasset) wins the Femina Prize
Category
Lagardère Publishing
Paris, November 7, 2011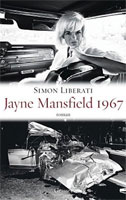 Simon Liberati won the Femina Prize for Jayne Mansfield 1967 (Grasset) on 7 November.
Liberati was born in Paris in 1960. He is the author of three novels published by Flammarion: Anthologie des apparitions (2004), Nada exist (2007) and L'hyper Justine (winner of the 2009 Flore Prize).
"In the early hours of the morning of 29 June 1967, on a stretch of highway 90 between Biloxi and New Orleans, a metallic blue 1966 Buick Electra 225 was involved in a fatal crash."
As the novel opens, nothing is left of this car but crushed aluminum, twisted metal and shattered glass. On the ground are a dead chihuahua, a lock of bleached-blond hair, and puddles of oil, petrol and blood. Nearby is a gigantic 18-metre lorry, the cause of the accident. The scene takes place in Louisiana. In the mangled Buick lies a woman, a 34-year-old Hollywood movie star, a Las Vegas nude dancer and famous 1950s sex symbol. Using this spectacular event – Jayne Mansfield's death in a car crash – as a starting point, Liberati creates a portrait of the actress, examining the most mysterious aspects of her life and retracing her final hours. He tells of her predilection for the colour pink and the temptations of Satanism, her love of dogs, large amounts of whisky and orphaned children, and the abuse she received from her lovers. He recounts her unbalanced life and her death by decapitation.
From a fascination with violence and the eroticism of death to the joy of contemplating and describing destruction, this novel is a tale of chic morbidness and modern baroque.
Email alert
To receive institutional press releases from the Lagardère group, please complete the following fields:
Register