International media coverage for the Orange Africa Cup of Nations, SOUTH AFRICA 2013


Category
Archives Lagardère Sports and Entertainment
Paris, February 6, 2013
Followed by more than 6 billion TV viewers worldwide1, the Orange Africa Cup of Nations is the major sport event in Africa.
SABC, Host Broadcaster of the Competition, provide the event TV production with the highest international standards: Full HD coverage, with up to 24 cameras per match (including a sky-cam and a super-slow-motion).
CAF and SPORTFIVE Africa, its exclusive agent for marketing and media rights, are happy to present the TV partners of the Orange AFCON, SOUTH AFRICA 2013 that will take place from January 19 to February 10, 2013.
The TV partners of CAF – Al Jazeera, BeijingTV -6, BBTV, Canal + Afrique, Canal + / D8, DirecTV Latin America, ENTV, ETT, ESPN, Eurosport Asia, Eurosport, SABC, ITV, Jiangsu Sports, Fujian Sports, Shanghai Sports, Supersport, SNRT, TV3, TV Globo and all the partners of the network LC2-AFNEX in sub-Saharan Africa – broadcast the matches of the Orange AFCON, SOUTH AFRICA 2013, over 141 countries.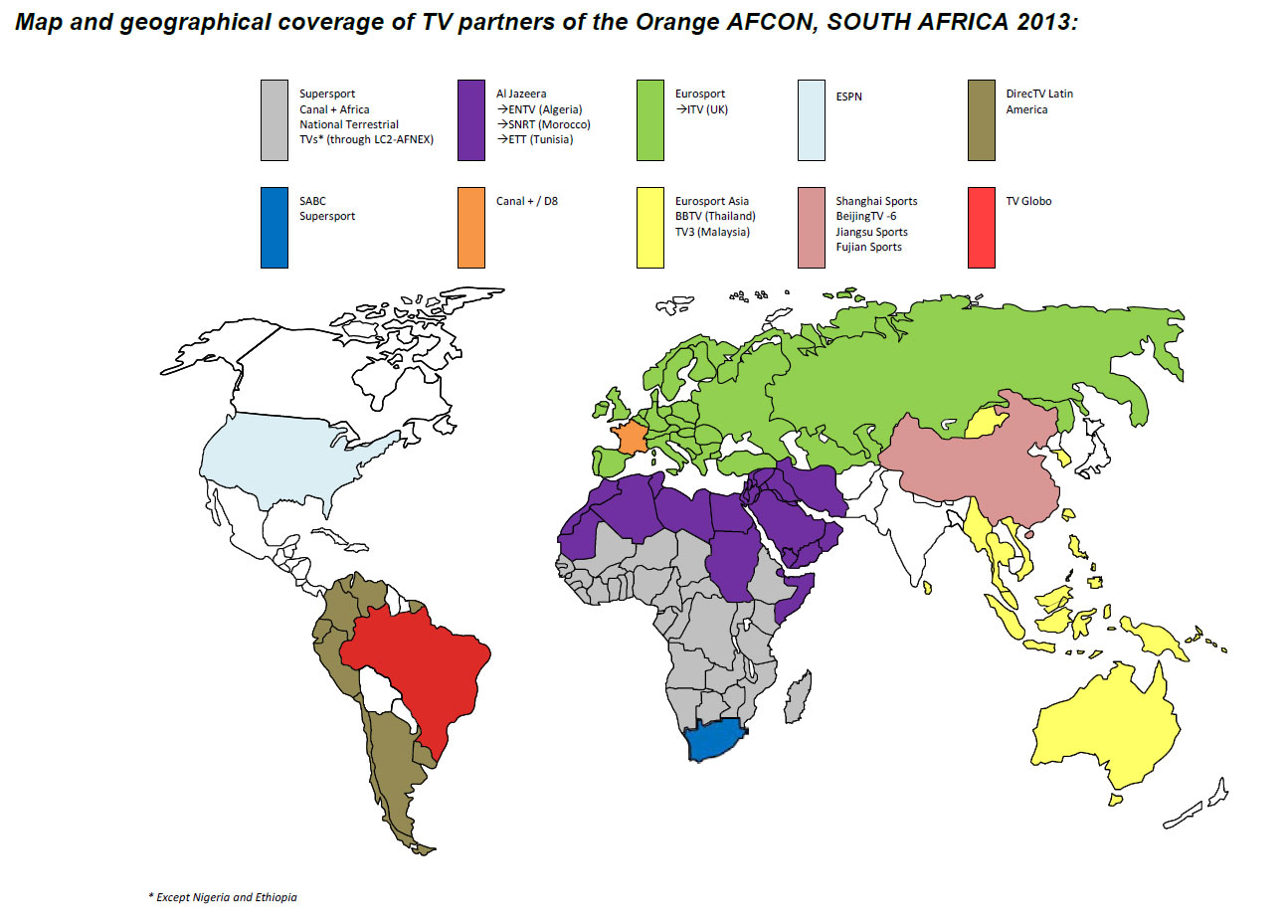 1 Source : Repucom
Press Contacts
Amr Shaheen - CAF - Marketing & TV Director
T + 2(02) 38 37 1000(107) E amr@cafonline.com
Annette Sindal - Lagardère Unlimited / Sportfive - Communications Manager
T + 33(0)1 74 31 72 08 M +33(0)6 33 44 77 65 E asindal@lagardere-unlimited.fr
Email alert
To receive institutional press releases from the Lagardère group, please complete the following fields:
Register