Inaugural issue of ELLEgirl

Category
Archives Lagardère Active
Paris, august 28, 2001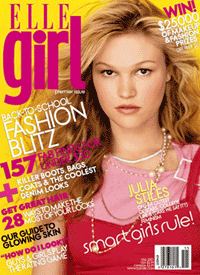 its creator, Hachette Filipacchi Magazines (HFM U.S.) is firmly convinced that ELLEgirl targets a largely under-served market – sophisticated, style-minded, Internet-savvy young women who think globally and react to fashion and beauty-trends faster than ever before.
In the U.S. this dynamic group is expected to grow from 24 million in 2000 to more than 34 million by 2010. Teens represent the single largest consumer group in history to hit the U.S. market.
ELLEgirl addresses the 12-17-year-old reader, with an emphasis on the older teenager who is likely to have traveled outside of her own country, who knows and purchases international brands such as Diesel jeans, who surfs the Web and who absorbs trends from myriad media sources. This is a reader who outright rejects what the U.S. advertising community calls "Bubble Gum" editorial — the gushing preoccupation with the latest pop star, or with advice on how to land a boyfriend. These topics fail to register with girls who see themselves as independent, culturally plugged in, and on their way to self-actualization.
"We want the magazine to reflect the same spirit as ELLE – with a voice to a younger generation," says Francois Vincens, associate editorial director, ELLE. "Clearly, the style position in the teenage market will correspond to the position of ELLE in the mature one."
ELLEgirl's Editor-in-Chief Brandon Holley, expands upon this point: "ELLE's sophistication and spirit translates perfectly to a younger demographic," she says. "The global success of the brand speaks to the girl who grew up on the Internet, with hundreds of cable channels, giving her access to an exciting and unlimited world."
The magazine's international scope is one point that differentiates it from its competitors. Backed by ELLE's editorial resources from all 35 editions, ELLEgirl reflects what real teen girls think and wear, from Australia to Argentina to America. It features a regular section entitled, "Global Girl," which showcases photographs of international young women in their own settings — after school, on city sidewalks and hanging out with their friends.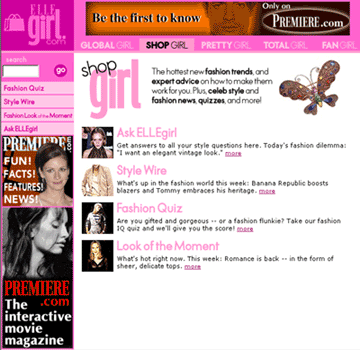 This effort at uniting nations through fashion doesn't stop with print: ELLEgirl is truly interactive. It is the first teen magazine that launched its Web site, ELLEgirl.com before it officially premiered the publication.
The site has been up and running since June, with dual goals of capturing reader reactions before the print version went to press, and of creating an online community for girls from around the globe.
Fueled by Web feedback, the magazine reflects the brave new world that young women now navigate. For example, even the publication's title was debated interactively. Feminists of the 1970s may have fought not to be called "girls," but 21st-century teenagers, according to an ELLEgirl's online poll, feel differently. They consider the word "girl" to be "hipper, younger and fresher" than its ubiquitous alternative, "teen."
Another key factor that separates ELLEgirl from the teen pack is its focus on fashion and beauty. With 60 percent of its format committed to these two categories — its pages designed in the uncluttered style that made ELLE such a success – ELLEgirl's unique editorial coverage makes it stand out among its competition. The magazine's pages also reflect a fun and sensible approach that incorporates a sense of humor.

As for the editorial tone of the magazine, ELLEgirl presents fashion that is within a girl's reach and price range, but still offers expert guidance.
Vincens explains: "We know that a group who spends 5 billion a year, including million on fashion and beauty, is looking for inspiration."
Holley agrees. "The editors are committed to delivering fashion and beauty products that are fresh, truly affordable, and right on the pulse of what girls want," she says, before adding, "Girls in this age bracket are in the process of defining their own styles, and they do need advice. ELLEgirl offers it in a tone they both appreciate and understand, without ever talking down to them."
Positioned as the "the first global magazine of style and beauty for the 21st century teen," ELLEgirl is being marketed and promoted by HFM(U.S) with a fresh and unprecedented innovative approach. The company is targeting ELLEgirl's readership by studying and responding to this group's unique behavior.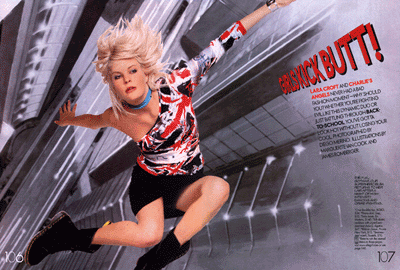 "These teenagers spend hours online everyday, watch music videos and love to shop in malls, so we are reaching them where they live and play," says ELLEgirl Publisher Linda Mason. "We will have spots on MTV. Also, large video screens in 100 shopping mall food across the country are featuring a 2 l/2 minute program cycle which features exciting, quick cut behind-the-scenes video and which also directs shoppers to nearby newsstands to buy the issue as well as to ELLEgirl.com."
Because music is such an influence among young women, ELLEgirl commissioned an official theme song with a music video written and performed by a renowned American songwriter. The ELLEgirl music video will be featured on the Web site and will be sent out in an "E-Blast" to hundreds of thousands of young teens, with instructions to download the video clip-and to subscribe to the magazine. The Web site was used as the primary marketing tool for subscriptions prior to the issue hitting the newsstand.
The "Back to School" issue rolled out in late August was available on full national newsstands for a two-month sales period. The magazine will be published four times next year with a rate base of 300,000. Other marketing efforts include promotions on targeted large market radio stations, and a video segment on "The Making of ELLEgirl which airs on select cable networks."
This issue has also been distributed internationally to approximately 70 countries. The U.K. and Asian editions of ELLEgirl will follow the American launch in early 2002.
Email alert
To receive institutional press releases from the Lagardère group, please complete the following fields:
Register