HFM takes control of ELLE and ELLE DECOR in Italy


Category
Archives Lagardère Active
Levallois, 23 january 2002
The Hachette Filipacchi Médias group will purchase the 50% share in the company EDIF that is currently held by the RCS Periodici group. EDIF publishes the magazines Elle and Elle Decor in Italy. As a result of this transaction, Hachette Filipacchi will control the entirety of EDIF's capital, and will appoint Mr. Bernard Mellano, CEO of Hachette Rusconi, as president of EDIF.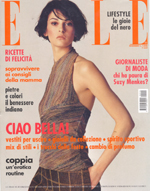 ELLE was introduced in Italy in 1987 and has become the top high-profile women's periodical in the market. ELLE DECOR is up among the leaders in high-profile decorating magazines.
ELLE has a distribution of 150,000 copies (according to a 2001 ADS inquiry) and ELLE DECOR distributed 58,000 copies over the same period. Over the 2001 calendar year, ELLE sold nearly 2,800 pages of advertisements and ELLE DECOR sold almost 1,200 pages..
This purchase will give Hachette operational control of its two largest international names in Italy. By 31 March 2002 at the latest, the two magazines will move into the Hachette Rusconi headquarters in Milan.
Beginning on 1 April 2002, the Hachette Rusconi Pubblicità subsidiary, which directs advertising for the magazines published by Hachette Rusconi, will assume control of the sale of space in Elle and Elle Decor to Italian advertisers.
Elle magazine will considerably strengthen the women's advertising capacity of Hachette Rusconi, which already publishes the weekly magazine Gioia and the monthly fashion magazine Donna.
Elle Decor will significantly expand the line of decorating magazines published by Hachette Rusconi Pubblicita, which include Gioia Casa and Spazio Casa.

International advertising sales for the two magazines will remain under the direction of Interdeco Global Advertising, a subsidiary of Hachette Filipacchi Médias.
Press Contacts:
Marie Muzard, Kathrin Schurrer et Aurélie Olivier
Tel : 33 1 41 05 09 60
Email alert
To receive institutional press releases from the Lagardère group, please complete the following fields:
Register