HFM launches ELLE Girl

Category
Archives Lagardère Active
Levallois, 25 June, 2001
Hachette Filipacchi Médias
will launch the first edition of Elle Girl in the United States on 28 August 2001, before launching a second edition in Great Britain, in partnership with Emap, in September.
After Elle Déco and Elle à Table, Elle Girl, aimed at young girls between 13 and 17 years of age, will complete the ELLE brand's international range of publications, currently distributed in 34 countries.
---

A strong start in the United States with a website, followed by the magazine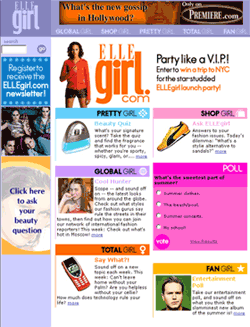 HFM launches Ellegirl.com today – the first Internet site devoted to teenage fashion and beauty.

This highly interactive site lets future readers of the magazine express their views and helps to gather opinions on current issues, features, fashion trends and reactions to planned articles.
The creation of the site will help establish a connection with the future readers of Elle Girl before the magazine is even launched, by developing a sense of "community": teenagers are the most "on-line" generation and the most accustomed to the Internet..
Elle Girl will be the first true fashion and beauty magazine for teenagers. Four issues are planned for 2002. The magazine is aiming for a circulation in the region of 300,000 copies, with a cover price of 2,95 $.
The American edition will be managed by Brendon Holley (editor-in-chief) and will include five main sections:


A round-up of fashion and beauty trends throughout the world, produced with the help of the teams from the 34 editions of ELLE..


A fashion and beauty shopping selection, concentrating mainly on high-class – but accessible – style.


Beauty tests, editorial advice and tips on how to use beauty products.

Lifestyle subjects and psychology.


"people" subjects, music, pop culture and more
---

Hachette Emap Magazines Ltd.: a growth dynamic
The British edition of Elle Girl, which will be launched in September 2001 by the joint venture Hachette – Emap Magazines Ltd, will be supervised by Fiona McIntosh, editor of the British edition of Elle, and edited by Sarah Bailey.
The second issue will be published in March 2002, with subsequent issues published once every three months.
The British edition of Elle Girl will be aimed at the same target readership as in the USA – young girls between 13 and 17 years of age – and is based on the same concept: a magazine that conveys the values of ELLE and which concentrates on fashion and beauty while ensuring that it remains accessible to this generation of teenagers.
This new launch will bring to six the number of magazines published by the joint venture between Hachette Filipacchi Médias and Emap, including three fashion and beauty magazines (New Woman, Red and ELLE), a home decoration magazine (ELLE Decoration) and a health magazine (Top Santé U.K.), the leading health publication in Great Britain.
Email alert
To receive institutional press releases from the Lagardère group, please complete the following fields:
Register