HFM, Gérard Ponson and Cauet launch GUTS
Category
Archives Lagardère Active
Paris, March 23, 2006
The first entertainment magazine for men, coming to newsstands on March 30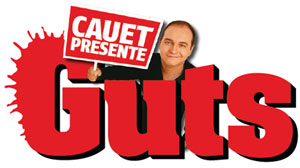 SEXY, YOUTHFUL and INTERACTIVE, GUTS is published jointly by the staffs of Gérard Ponson and Cauet.
Offbeat, upbeat and fun in the Cauet way, "the magazine for people who dare" targets a young, male audience.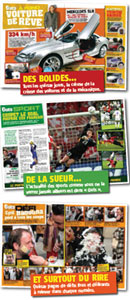 Gérard Ponson "The magazine market needs innovative editorial products. A new concept + Cauet + our know-how equals the promise of an attractive, novel magazine".
Each issue begins with an interview by Cauet in his inimitable style! People, sports – whatever the subject, it will pass "between his hands". And it's certainly no accident that he decided to start with Victoria Silvstedt and Carmen Electra!
The interview will be followed by sections devoted to the out-of-the-ordinary (like the weird artist, the anonymous person with the bizarre hobby and all the planet's raving lunatics), cars (unusual models, tune-ups, competition cars, etc.) and shopping (high-tech, traditional, unusual and other items).
And obviously a rather sexy section, which should surprise no one! The magazine will also take a fresh approach to behind-the-scenes news coverage and offer some decidedly offbeat articles. The 124 fun-packed pages will close with two weeks of TV programming.
GUTS also gives a starring role to interactivity
by offering challenges to readers, who can communicate by MMS or on its website at www.guts.fr. A brand spin-off, the website will feature similar content – sexy and youthful (blogs, videos, etc.). The colourful magazine will have an unstructured layout that takes a quick-and-easy "snacking" approach to reading. Faithful to the causes championed by Cauet and Gérard Ponson, GUTS will be involved in road safety, AIDS prevention and other campaigns. For example, partnerships will be set up to distribute condoms this summer.
On newsstands every other Thursday, GUTS will be sold for €2.90.


With a print run of 450,000, the magazine is aiming for an average paid circulation of 300,000 in 2006 and will be distributed by NMPPs (newspaper and magazine distributors).
The magazine's launch is being supported by a major promotional campaign costing €5 million. The campaign will get underway on 28 March and will feature three short, simple and humorous TV ads (8, 12 and 20 seconds, respectively) as well as poster advertising, particularly at points of sale.
Cauet "I have always had a passion for the media. Now, thanks to GUTS, I have the opportunity to take on the great adventure of the print press".
---
Key figures
Sexy, youthful magazine for men
Target: men ages 15-35
Price: €2.90 · Format: 220 mm x 300 mm
2006 paid-circulation objectives: 300,000 copies
Print run: 450,000 copies
Promotional campaign
TV: TF1, M6, cable
Poster advertising: 60 cm x 80 cm, 120 cm x 174 cm, back of newsstand
Network: POS promotion
Editorial staff
Publication manager: Gérard Ponson
Editorial director: Cauet
Managing editor: Marie-Laurence Vieillard
Editors-in-chief Jean-Marc Gresta and Franck Sportis
Contact, advertising broker: Interdeco/Anouk Diamantopoulos
Email alert
To receive institutional press releases from the Lagardère group, please complete the following fields:
Register