HFM acquires a majority stake in Rapho

Category
Archives Lagardère Active
Wednesday, January 3, 2001
On December 28, 2000, Anne-Marie Couderc, CEO of Hafimage, a photo agency subsidiary of Hachette Filipacchi Médias, and Mark Grosset, who manages the Rapho photo agencies, signed an agreement by which Hafimage is to take a 70% stake in Rapho.

RAPHO : a quality French brand name in the world of photography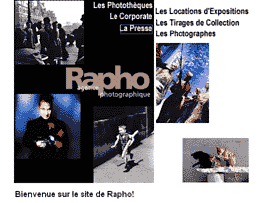 The Rapho group, comprising Rapho and Top*, was created in 1933, making it one of the oldest French photo agencies. It is especially well-established in the field of magazine pictures, thanks to the hard work of its founder Raymond Grosset, who managed to attract many of France's most talented photographers, including Robert Doisneau, Janine Niepce, Willy Ronis and Sabine Weiss.
Mark Grosset, who with his sister Kathleen has taken over management of the group, is carrying on the tradition of quality photo production by working with new generations of major photographers. He is also developing new activities like corporate advertising, publishing and photo exhibits along with the group's traditional press-related activities.
Today, Rapho has 30 employees and a catalog containing four million photographs.
A decisive step for HFM in setting up its photography business
"The acquisition of Rapho, an agency that has built on its roots in the great tradition of French photography and successfully nurtured new talents for the future, is a decisive step in setting up our photography business", explains Anne-Marie Couderc, Hafimage's CEO and Executive Vice-President of HFM.
This acquisition is in line with HFM's development strategy in the photo business, in terms of both coverage of a wide range of market segments and qualitative objectives for photo production.
The acquisition of Rapho is the latest step in the process that began in September 1999 with the purchase of Gamma, a large agency specializing in News. It continued with the acquisition last summer of agencies specializing in Illustrations (Jacana and Hoa-Qui), and this autumn, of Katz, specialized in "People" photography, and Keystone, renowned for its historical archives.
In parallel, HFM is continuing its photo scanning project, with a view to opening a portal before the end of 2001 that will present, under their respective brand names, all its catalogs, photo agencies and magazines.
* Top: an agency in the Rapho group specializing in illustrations: cooking, decoration, high-end tourism, etc.
Press Contacts :
Marie Muzard and Aurélie Olivier
Tel : 33 1 41 05 09 60 - Fax : 33 1 41 05 09 67
Email alert
To receive institutional press releases from the Lagardère group, please complete the following fields:
Register