HDS RNA introduces a new concept store

Category
Lagardère Travel Retail
Paris, May 23, 2006
Magazines, specialty coffee, healthy snacks, newspapers and downloading all in one place? That's right with Journo
Magazines, specialty coffee, healthy snacks, newspapers and downloading all in one place? That's right – on 1st May, HDS RNA opened a stunning new concept store called Journo in the heart of the entertainment district in downtown Toronto, Ontario.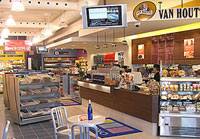 This combination store offers the customer a wide range of products. On one side of the store is a Van Houtte coffee bar, complete with a large selection of filtered and specialty coffees, tasty pastries and savory salads and sandwiches.
Van Houtte is a Canadian owned brand which consists of 3 divisions, coffee shops, food service and a retail division selling packaged coffee to major supermarket throughout Canada.
The Journo side of this location has magazines, newspapers, an open air cooler, snacks and candy.
Also available at Journo is a downloading station. This allows customers to download music onto a CD or their MP3 player, or print pictures from their memory stick.
To welcome the new concept to HDS, Journo was visited by Jean-Louis Nachury and Louis de Rostolan of HDS Paris and Van Houtte Division Café President – Stéphane Breault during the grand opening week.
Email alert
To receive institutional press releases from the Lagardère group, please complete the following fields:
Register