Happy birthd'ELLE !
Category
Archives Lagardère Active
Paris, January 11, 2016
A look back at the events surrounding the magazine's 70th anniversary
Publication of a collector's issue
ELLE's 70th anniversary was celebrated on a grand scale with 14 huge stars of French cinema reunited in front of Jean-Paul Goude's camera lens!
This special, more than 400-page issue, released on 15 December 2015, tells the whole story – from the initial idea to the final result – of this amazing photo session that brought together the likes of Catherine Deneuve, Isabelle Adjani, Emmanuelle Béart, Adèle Exarchopoulos and Leïla Bekhti.
The magazine also asked Karl Lagerfeld to shoot the major fashion designers who provide ELLE's inspiration, including Isabel Marant, Alber Elbaz, Olivier Rousteing and Clare Waight Keller (Chloé), who all responded with heart-warming enthusiasm.
Also, since ELLE has always played an active role in the fight for women's rights, the magazine looks back on 70 years of battles decisively won, and wonders what remains to be done – and the answer is: a lot!
In this issue you will also find an exclusive poll conducted with Ipsos on the theme of "Frenchwomen in 2015." Where do they stand? What do they dream of? The results showed that, even though they would like to earn more money, they generally consider themselves in good shape and happy!
Many reproductions of memorable pictures and articles give readers a grasp of ELLE's changing style over the years, from famous fashion "mix & match" trends to the best articles to have appeared in the magazine (by Françoise Sagan and Françoise Giroud, among others).
With its characteristic tone, which casts an ironic light on seriousness and a serious light on frivolity (to paraphrase its founder, Hélène Lazareff), ELLE reflects on its past while looking unabashedly forward to the future with hope, energy and wit!
In addition, ELLE invites its longstanding, loyal readers behind the scenes to learn how their favourite weekly is put together. And there are dozens of other surprises awaiting them…
With ever-increasing curiosity and enthusiasm, and the strength of experience constantly enriched with fresh points of view and new ways of doing things, ELLE continues to give creative expression to its long love affair with Frenchwomen. This remarkable bond was celebrated with elegance and generosity, as is fitting.
Release of ELLE était une fois and ELLE colorie
To celebrate ELLE's 70th anniversary, Editions du Chêne and Hachette Loisirs have published Elle était une fois and Elle colorie, respectively.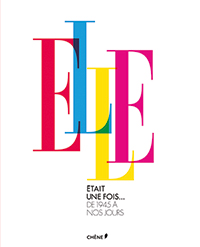 ELLE était une fois (Once Upon a Time)
From the worlds of fashion, beauty, culture, society and private life, rediscover the most iconic pages of ELLE magazine, from 1945 to the present day! Hélène Lazareff created ELLE just after WWII. This "blockbuster" book, released to coincide with the magazine's 70th anniversary, brings together magazine pages marking memorable events that left a powerful impression on readers' hearts over the last seven decades. The emergence and career of the couturier Yves Saint Laurent, contraception, abortion, medically-assisted conception, trends affecting couples and families, new design trends, culinary revolutions, portraits of artists, work, and the condition of women in France and worldwide – ELLE has addressed all of these topics, with a selection of photos and articles written by editorial staff journalists and renowned authors (including Jean Anouilh, André Maurois and Françoise Sagan) to remind us of just how closely the weekly mirrored trends in society and revolutionized our perspectives and our lives.
Editions du Chêne
Format: 240 x 310 mm
320 pages
Price: €39.90
ELLE colorie (an ELLE colouring book)
100 trend-savvy drawings. Soledad has been working with ELLE for 15 years, punctuating the pages of the magazine with her amusing, light-hearted illustrations, always in step with the times. This large-format colouring book features 100 iconic drawings that appeared in the weekly. Soledad erased the colours from her drawings and then added new details and patterns so that each person, alone or with a partner, can colour them in to suit their desires or moods. The idea is to relax and experience the pleasure of creativity.
Hachette Loisirs
Collection: Art therapy
Format: 210 x 297 mm
128 pages
Price: €12.90
Download page 1 from ELLE colorie
Download page 2 from ELLE colorie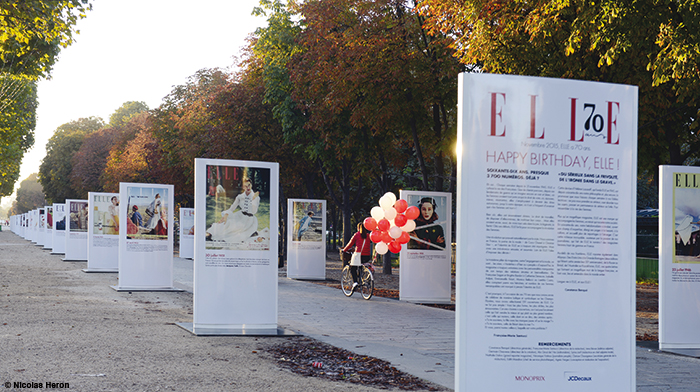 On the world's most beautiful avenue…
Seventy years of ELLE, with over 3,500 iconic covers. The magazine's most beautiful, forceful and legendary covers were exhibited from 21 September through 7 October 2015 on the Champs-Élysées in Paris – ranging from "Catherine Deneuve's smile to Emmanuelle Béart's sensuous hips, and from an Afghan woman to the dove of peace following the Charlie Hebdo terrorist attack.
At BHV Marais
From 19 October through 3 November 2015, ELLE also decked out the celebrated BHV Marais department store with its colours. The magazine's most beautiful covers were exhibited in the display windows and aisles of the stylish department store. During a special shopping day, ELLE readers were invited to a photo call (where they could take a selfie in front of an ELLE cover mock-up) and a make-up workshop, and were treated to a host of other surprises, not to mention a 20% reduction on purchases store-wide.
The Elle.fr website and ELLE app offered the magazine's readers a chance to blow out the candles on an interactive birthday cake and win iconic gifts. Seven gifts were given away every day and, on the last day, one person's name was randomly drawn to win 70 prizes comprising the ELLE woman's ideal wardrobe! This all-new "Infinite Cake" viral advertising campaign was built around #HappyBirthdayELLE.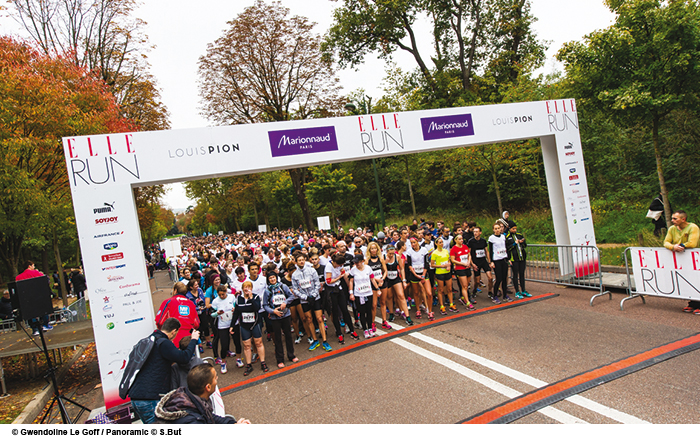 ELLE inaugurated its first big foot race, the ELLE Marionnaud Run, on 18 October 2015 in the Bois de Boulogne. The 7-km race, run by two-person teams, drew nearly 4,000 participants for this relaxed morning sporting event. A portion of the registration fees were donated to L dans la Ville, a Sport dans la Ville association programme, supported by the Elle Foundation.
The documentary ELLE était une fois…
In December 2015, Paris Première aired a previously unreleased "rich, accurate and funky" documentary, ELLE était une fois, which traces the irresistible history of the ELLE woman, with the participation of Karl Lagerfeld, Carla Bruni and philosopher Elisabeth Badinter.
Email alert
To receive institutional press releases from the Lagardère group, please complete the following fields:
Register