Happy Birthday SPORTFIVE Germany
Category
Archives Lagardère Sports and Entertainment
October 19, 2012
In December 1987, a remarkable success story began: SPORTFIVE (then UFA) submitted a bid for the Bundesliga football TV rights to the German Football Association (DFB). In April 1988, the League Committee accepted its offer, bringing public-service television's monopoly on German football to an end. RTL plus became the first commercial TV station to broadcast Bundesliga football.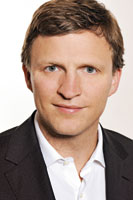 For the Lagardère Unlimited subsidiary SPORTFIVE Germany, that acquisition of TV rights marked its entry into the sports rights business. This year, it celebrates its 25th anniversary. Philipp Hasenbein, Managing Director of SPORTFIVE Germany, comments: "Over the past 25 years SPORTFIVE Germany has enriched the sports rights market with groundbreaking innovations, steadily increasing the level of professionalism. I myself have been with SPORTFIVE for 17 years now, and am proud to have played a part in the market leader's ongoing development."
Today, more than 200 sales and marketing professionals work for SPORTFIVE at 16 locations across Germany, covering the entire spectrum of sports marketing. Football remains its core business: SPORTFIVE Germany is responsible for the overall marketing of 14 professional football clubs, including the German champion Borussia Dortmund and Hamburger SV.
The market leader is also active in other sports such as winter sports, handball and motor sports. SPORTFIVE Germany will continue to shape the sports rights market with successful innovations as it develops individual solutions for a wide range of sports marketing related matters. Hasenbein says: "I look forward to continuing to keep the industry moving and advancing into the future, together with our sister companies in the Lagardère Unlimited network." Here's to the next 25 years in the sports business!
Email alert
To receive institutional press releases from the Lagardère group, please complete the following fields:
Register