Hachette Filipacchi Médias' new quarterly

Category
Archives Lagardère Active
Paris, March 10, 2005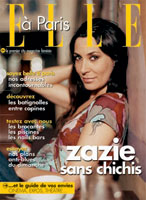 In light of the success of its first two issues, which posted an average circulation of 70,000 copies, Hachette Filipacchi Médias has confirmed the launch of Elle à Paris as a quarterly periodical.
This first city magazine for women aims to make life easier for all women living in Paris and the surrounding Ile-de-France area. Accessible and practical, this small-format magazine manages to be useful while remaining fun and light-hearted. It will report on new stores and restaurants, off-the-beaten-path addresses, unusual exhibitions, leisure, kids' activities, culture, criticism and more.
Its Whims and Wish List Guide offers a selection of films, shows and exhibitions from which women can choose according to their mood. Children's needs are not overlooked: the Métropolissons Notebook comes up with unusual outings and activities for them to try. And you can't have a guide without testing: all places, restaurants, nightclubs, bike rental outlets, ice creameries and so on featured in the magazine have been carefully screened by our journalists. Elle à Paris also interprets social phenomena, trends and urban fashions and explores Parisian society through portraits of outstanding women in its Magazine section.
Headed by executive editor Cristina Alonso, who is assisted by art director Georges Le Bihan, Elle à Paris is distributed by press outlets in Paris and the Ile-de-France region and by all Relay stores in France.
Retail price: €2.
Four issues are slated for 2005:
No. 1 : March 14
No. 2 : May 30
No. 3 : August 29
No. 4 : November 28
Cover available as a pdf file upon request from ellepromo@hfp.fr
Press Contacts:
Catherine Roger - Tel : 33 1 41 34 66 09
Email alert
To receive institutional press releases from the Lagardère group, please complete the following fields:
Register