Gulli: Vues d'ici (The View from Here) – Monday through Friday at 11:40 am, beginning Monday 8 March

Category
Archives Lagardère Active, CSR
Paris, February 16, 2010
As a committed, civic-minded channel, Gulli works actively throughout the year, both in its programming and in the field, to convey the values of tolerance, respect, eco-citizenship and generosity
"We have been working for several months on a wonderful campaign alongside Pascal Obispo, who accompanied us last year to the rally for reforestation held on 22 April at the Great Dune of Pilat.
This year, with children in tow, we will be planting the flag for Captain Samouraï Flower, the nature-loving character created by Pascal, with the goal of protecting sites beloved by children throughout this beautiful country. We hope that this symbol will offer hope to the younger generation, the doers of today and the decision-makers of tomorrow."
Karine Leyzin
Gulli Programming Director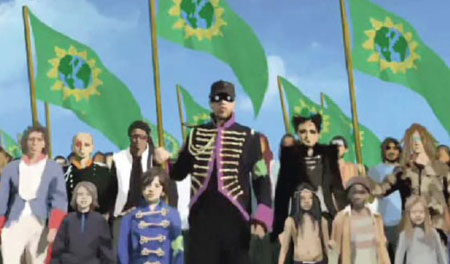 Showcasing the wealth of our planet and the beauty of its landscapes, this short programme is designed to make children more aware of efforts to preserve our resources and the harm done to our planet each day.
Made by and for children, the programme addresses the issue of environmentalism from an entirely new perspective. It features both real-life photography and illustrations inspired by the works of Pascal Obispo to accompany children's narratives, which will be entertaining and informative for viewers, all set to Pascal's music.
Young boys and girls from around France will tell Gulli viewers about the region where they live, while sounding the alarm about threats to the environment. They will explain why each site is so remarkable and the dangers that, in their view, threaten its survival.
Learn more about some of the locations that Gulli viewers will explore in Vues d'ici (The View from Here):
Lac des Settons in the Morvan nature reserve (Nièvre/Burgundy)
Cap Blanc-Nez (Pas-de-Calais/Nord-Pas-de-Calais)
The Grand Morgon forest (Hautes-Alpes/Provence-Côtes d'Azur)
Marquenterre ornithological park (Somme/Picardy)
The cliffs of Etretat (Seine-Maritime/Upper Normandy)
The Vernay peat bogs in the Morvan nature reserve (Nièvre/Burgundy)
The Vigueirat swamp (Bouches-du-Rhône/Provence-Côtes d'Azur)
Cap Gris-Nez (Pas-de-Calais/Nord-Pas-de-Calais)
Mont Beuvray in the Morvan nature reserve (Nièvre/Burgundy)
The Glandieu waterfall (Ain/Rhône-Alpes)
Lake Genin (Ain/Rhône-Alpes)
Somme Bay (Somme/Picardy)
The Choranche caves and waterfall (Isère/Rhône-Alpes)
Lake Serre-Ponçon (Hautes-Alpes/Provence-Côtes d'Azur)
The creeks of Cassis (Bouches-du-Rhône/Provence-Côtes d'Azur)
The gorges of the Cians (Alpes-Maritimes/Provence-Côtes d'Azur)
Mercantour national park (Alpes-Maritimes/Provence-Côtes d'Azur)
The gardens of the Domaine du Rayol (Var/Provence-Côtes d'Azur)
The Camargue regional nature reserve (Bouches-du-Rhône/Provence-Côtes d'Azur)
Port Cros national park (Var/Provence-Côtes d'Azur)
Les Alpilles regional nature reserve (Bouches-du-Rhône/Provence-Côtes d'Azur)
Domaine de la Palissade nature reserve (Bouches-du-Rhône/Provence-Côtes d'Azur)
The Antifer Valley (Seine-Maritime/Upper Normandy)
Short programme: 50 x 3'
A Carson Prod/Lagardère Entertainment production
Airing Monday through Friday at 11:40 am (beginning 8 March) and Saturdays at 7:30 pm (beginning 6 March)
Email alert
To receive institutional press releases from the Lagardère group, please complete the following fields:
Register