Grants from the Jean-Luc Lagardère Foundation: call for applications

Category
Corporate & other activities, CSR
Paris, March 16, 2009
Ten grants, totalling €255,000 in all, will be awarded this year to young creatives and media professionals who submit an original, French-language project in the fields of writing, audiovisual arts, music and digital technology(1).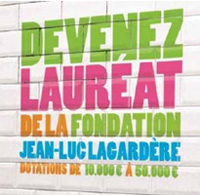 Awarded by panels of prestigious judges since 1989, these grants – through their size and the range of disciplines involved – make the Jean-Luc Lagardère Foundation France's leading patron of creative young talent. In addition to providing the winners with the financial resources they need to bring their projects to fruition, the grants also serve as a springboard for their professional future.
Candidates must be under the age of 30 (35 for booksellers) and have made a successful start in the discipline of their professional career. Application packs can be downloaded from the Foundation's website from 16 March and must be delivered to its headquarters by 12 June 2009.
The goal of the Jean-Luc Lagardère Foundation is to promote new works in the fields of literature and music, to provide support to talented young people, and help the largest possible number of people enjoy access to cultural activities. The Foundation also aims to promote French culture around the world and to make culture and sport a vehicle for social cohesion in urban neighbourhoods.
(1)Writer Grant: 25,000 euros; Print Journalist Grant: 10,000 euros; Photographer Grant: 15,000 euros; TV Screenwriter Grant: 20,000 euros; Digital Creator Grant: 25,000 euros; Bookseller Grant: 30,000 euros; Musician Grant: 25,000 euros; Film Producer Grant: 50,000 euros; Documentary Filmmaker Grant: 25,000 euros; Animated Filmmaker Grant: 30,000 euros.
Jean-Luc Lagardère Foundation Presse Contacts
Email alert
To receive institutional press releases from the Lagardère group, please complete the following fields:
Register