Femina enters the chinese market : on may 27, Lagardère Active launched a chinese edition of Version Femina

Category
Archives Lagardère Active
Paris, June 6, 2008
As it strives to ramp up its digital transformation by launching new Websites and making acquisitions, Lagardère Active, which generates more than half of its revenue outside France, is continuing to expand its footprint across the world by betting on those emerging countries (mainly Russia and China ) that have been earmarked as growth drivers as part of its new « Active Growth » plan.
The Group is announcing a 6th magazine launch abroad since the beginning of 2007, after introducing Domoï (in March in Russia), Quo (In April in China), Riders (In September in Italy), StarHit (In November in-Russia) and Home (in May 2008 in Italy). 2 new international editions of ELLE also came out in Indonesia in March 2008 and Finland in April 2008.
With a second magazine introduction inside of a year in China, Lagardère Active has been giving new impetus to its goal of re-energizing its traditional franchises in emerging countries (China and Russia), where growth rates are already in the neighbourhood of 30 %.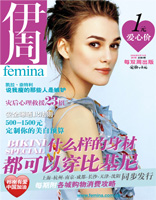 Femina is the only international upscale women's weekly in China that is exclusively dedicated to international celebrities, fashion, shopping and how-to articles.
Femina, which is to appear first as a bi-weekly, will become a weekly publication as of 1 September 2008.
The magazine is distributed in 7 cities (Shanghai, Hangzhou, Nanjing, Shenyang, Tianjin, Chengdu, Changsha).
It will have a print run of 700, 000 copies with 68 pages, including 8 pages of local news.
This launch is being accompanied by a large-scale promotional and support campaign, which was modified within less than a week in the 7 cities in the wake of the devastating earthquake that hit the province where Chengdu located in (donations were made and editions distributed free of charge in Chengdu).
The www.femina.com.cn Website was launched jointly with the print edition.
Lagardère Active, which has been operating in China for the last 20 years, co-publishes a score of titles that include monthlies such as ELLE, ELLE Decoration, 25ans, Marie Claire, Car&Driver, Woman's day, Psychologies Magazine, and Quo.

Email alert
To receive institutional press releases from the Lagardère group, please complete the following fields:
Register