ELLE launches VERY ELLE, a showcase magazine exclusively dedicated to heroines


Category
Archives Lagardère Active
Paris, April 15, 2008
Each and every week, ELLE is communicating its passion for women.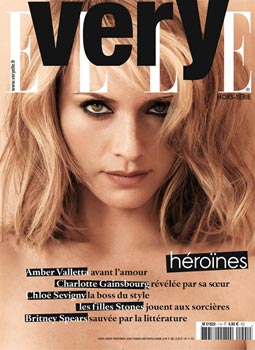 ELLE is the weekly that fuses fashion, beauty and seduction, taking sides and looking afresh at emerging societal trends, expressing its own point of view and making commitments.
While ELLE tells about the lives of women, VERY ELLE will narrate the story of heroines, aiming to function as their precious and exclusive showcase. The magazine will not necessarily focus on the high and mighty, but on all those women that touch, surprise and fascinate us.
"This is a tribute paid to beauty, charm and originality. A one-of-a-kind encounter with a world entirely dedicated to fashion, which is entirely subjective because we're only interested in conveying specific points of view", explains Valérie Toranian, editor-in-chief of ELLE and VERY ELLE.
This is the dawn of a new adventure between ELLE and women the world over. VERY ELLE will be published twice a year and will feature work by a slew of new artists and photographers as well as interviews with personalities and editorial surprises.
VERY ELLE will be launched together with VERY ELLE.FR, an innovative and creative e-magazine and a natural extension of this new adventure.
Readers will be able to take a virtual stroll through this digital edition, much as if they were turning the pages of a real magazine thanks to its rich and animated video contents, playful interactivity and latest Web-based technologies.
Date of launch: Thursday, 17 April 2008
Cover price: 4.90 €. Size: 230 x 300 mm.
Print run: 150,000 copies.

Email alert
To receive institutional press releases from the Lagardère group, please complete the following fields:
Register